GoDaddy Review
Easy to Use

Server Speed

Uptime

GoDaddy SEO

Security Features

Features

Affordability

Customer Support
GoDaddy Review
GoDaddy is a popular name among web hosting and domain providers. It is a pretty decent hosting provider that offers a good amount of server resources and free domain service with all of the plans. It has an easy learning curve and is beginner-friendly. The hosting performance is also pretty reliable.
However, the security features are not that great and the advanced features can be better. Also, the hosting plans may seem cheaper, but the renewal plans and additional costs can be quite expensive.
All in all, it is a good hosting provider for beginners, who are new to the world of websites.
GoDaddy website builder is a well-popular website builder with a modernized interface. A website is a great way to establish a strong online presence. Plus with the rapidly increasing popularity of website builders, everyone is now able to build their own website. Since there are a plethora of website builders available, it is difficult to choose the right platform. Therefore, I bring you this detailed GoDaddy website builder review to help you understand if it's worth our time!In this review, I am going to inspect various aspects of the said platform starting with the brief induction followed by pros and cons, features, pricing, and more. Here at websitebuilderfact, I am going to test and review GoDaddy website builder. Hopefully, you will be able to measure the usefulness of the website builder to you by the end of this comprehensive review. Let's dive in!
For
Against

Easy-to-use visual editor
Ready to use 22 themes
Free plan

Less designing flexibility
Almost negligible eCommerce features
Not so great SEO features
What is GoDaddy website builder: Two minute review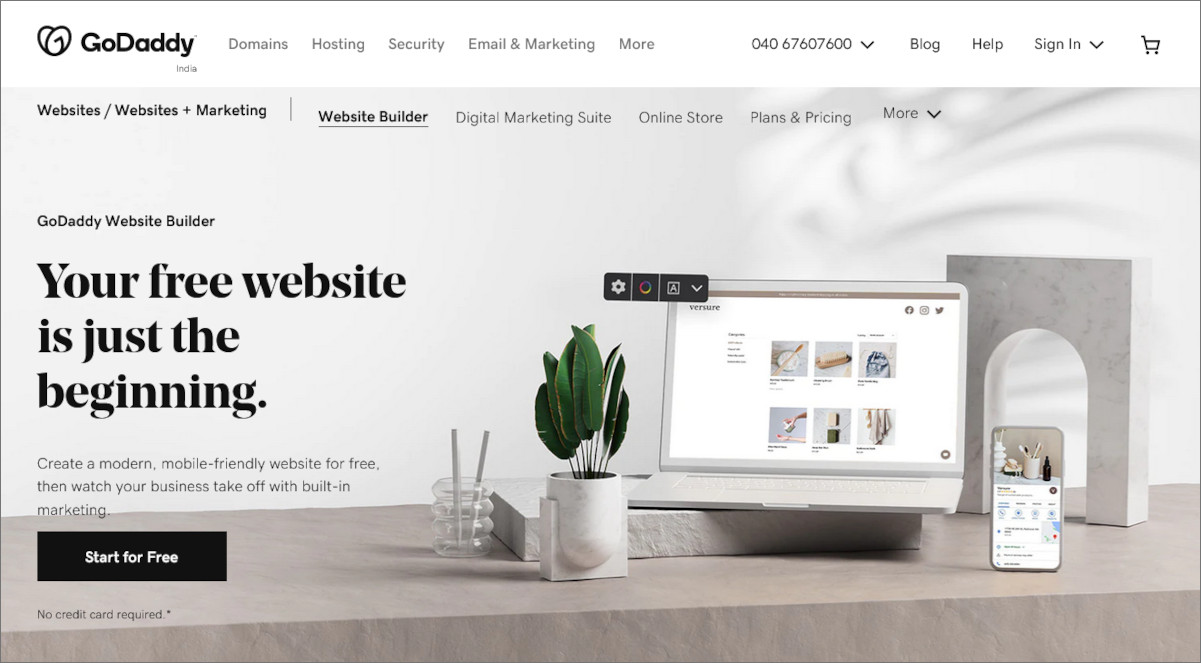 GoDaddy Websites + Marketing is a user-friendly website builder that comes with a bunch of ready-to-use themes and a visual editor. As the name suggests, it is an all-in-one solution that offers great website building as well as marketing. Moreover, there is a built-in content creator to help you create social media posts, an email marketing tool, blogging features, and more. Moreover, it offers a free plan which is perfect to get familiar with the platform without having to spend anything on it.
Getting started on this platform is pretty easy as all you have to do is enter the information you want on your website and it generates a unique website for you. It is relatively a new platform which was launched with the aim of improving the overall website building and marketing experience. Overall, it is a great solution for any entrepreneur or small business looking to get online without all the hassle involving website building.
Some of the key advantages of GoDaddy website builder are-
Ready to use themes with an intuitive editor to edit them with ease
Offers tailored action plans for your website
Built-in marketing tools for better SEO ranking and drive traffic to your website
Offers 99.9% uptime
GoDaddy website builder Review: Pros and Cons
Like any other website developer, GoDaddy website builder comes with a rich set of pros and some cons to it. Following are the pros and cons of GoDaddy website builder-
Pros of GoDaddy website builder
Simple to use visual editor
Mobile-responsive themes
Great marketing suite
Free version and affordable pricing structure
Ideal for creating appointment solution
Cons of GoDaddy website builder
Not ideal for creating eCommerce solutions
Limited designing capabilities
Features of GoDaddy website builder: Extensive Review
As mentioned earlier, GoDaddy website builder is an extremely easier to use tool that offers a wide range of features. Following are some of the features offered by GoDaddy website builder-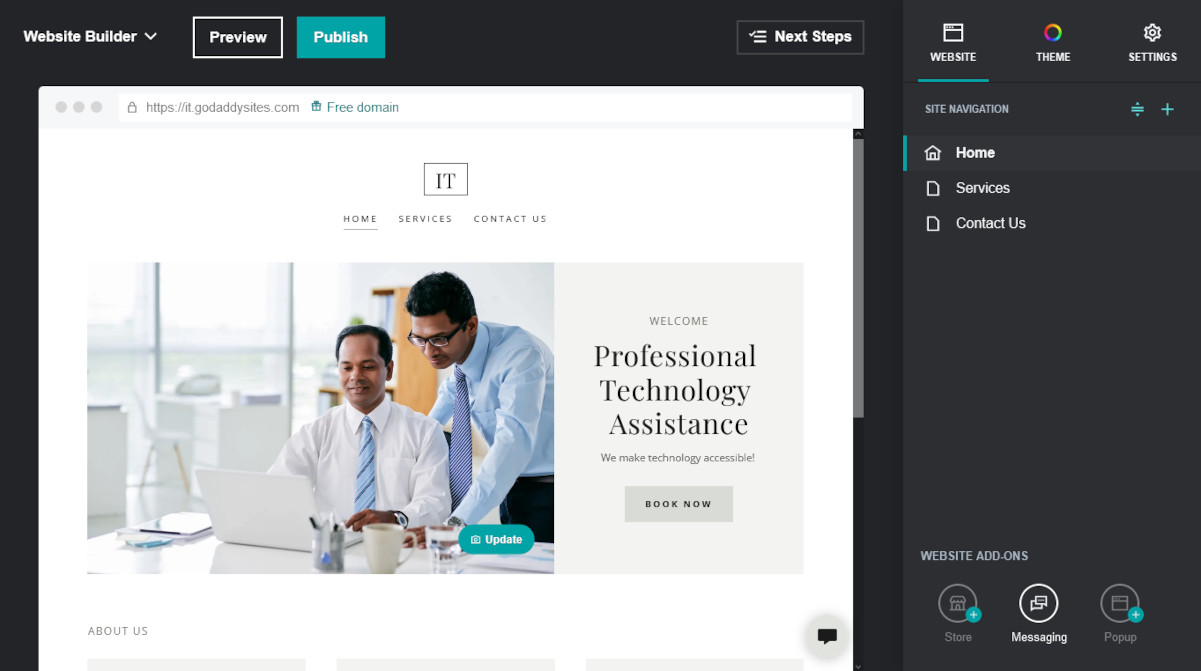 As mentioned earlier, GoDaddy website builder comes with a really easy to use, visual editor. The editor is placed on the right-hand side with a clear and easy to follow interface. You can just navigate through simple options while building your own website. Moreover, there are advanced options offered by the editor that feel equally easy to use. You can do things like adjusting the image focal point or add pop-ups pretty easily.
Social media is always a good idea to increase engagement with your targeted audience. With a tool like GoDaddy website builder, it becomes easier to manage multiple social media accounts. It enables you to add icons to link out to your various social media profiles and even connect your Facebook or Instagram store with your website. However, you can't embed a live social media or RSS feed on your website.
On the other hand, it offers seamless integration with Google Analytics to help you keep track of your visitors and the progress your website is making. It means you can track everything from your most viewed page to the amount of time users spend on your site in general. However, like other website builders it doesn't have its own analytics tool but with easy integration with Google Analytics, it ensures brilliant analysis.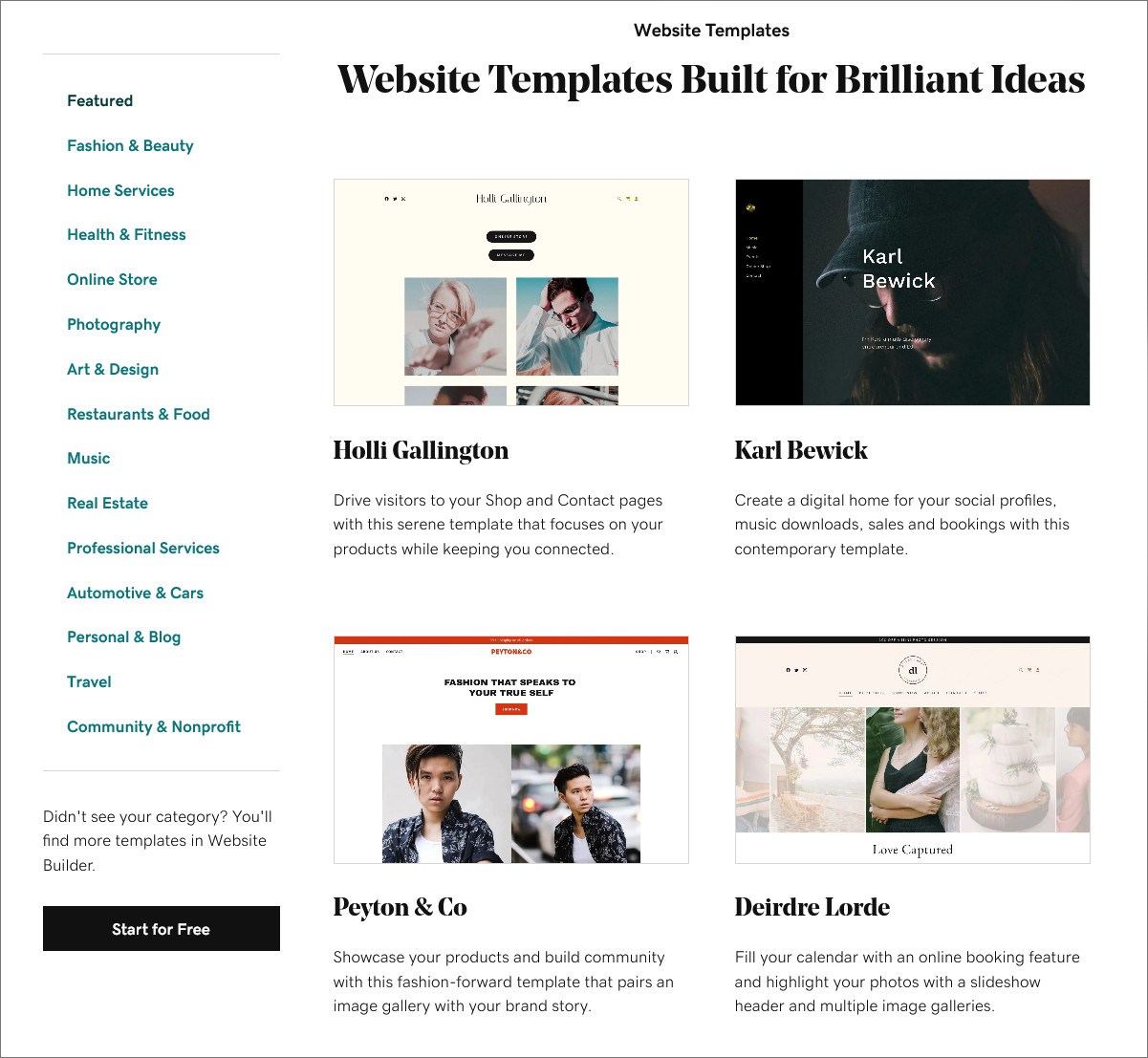 GoDaddy offers a total of 22 themes that are clean, responsive, and modern looking. Moreover, they are categorized neatly into various groups like blog, restaurant, store, etc. Overall, GoDaddy themes are great as long as you don't have to customize them. Note that it has a visual editor but it is not drag-and-drop which limits the customization flexibility. Firstly, you can only choose one primary color and you can't even decide where it gets applied in your website. Next, you can select your heading but can't customize their size. In fact, you can't even change the layout of your theme and all the themes have the same layout.
When it comes to eCommerce, GoDaddy is not the ideal option. However, it still offers the basic eCommerce features. Apart from basic features like product browsing, one-step process and more, there are still some limitations. The biggest problem with GoDaddy's eCommerce is that the checkout is not hosted on your domain and your users are redirected from your domain to mysimplestore.com. It can lead to poor branding and trust issues because checking out often involves banking and online transactions. Another thing that requires improvement is that you are not able to customize the email receipts that customers get after placing an order. It is a standardized protocol and lacking it is not a good trust signal.
On top of it, it doesn't offer an automatic taxation system, which means you'd have to add each tax manually. It can lead to inconsistent pricing and ultimately loss of consumers. These features are pretty common with other eCommerce platforms and hence, this platform is not suitable for building eCommerce websites.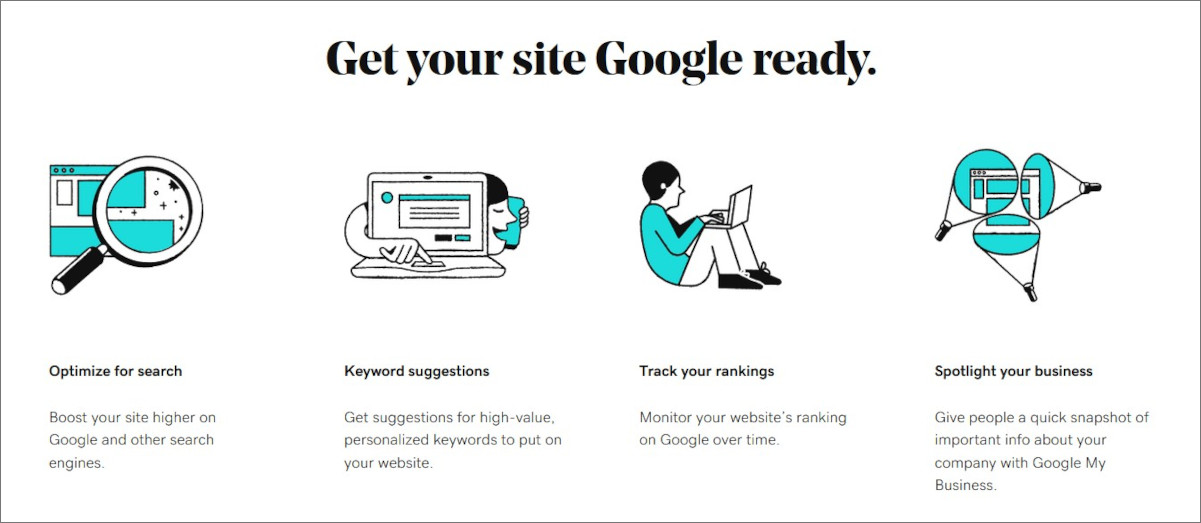 GoDaddy SEO is something to appreciate but it doesn't come cheap. The lowest plans are limited to page titles and meta descriptions only. By upgrading to the higher plans, you can view Google search metrics and the SEO wizard, which is useful to beginners. However, even after upgrading to the highest of plans, it still lacks some SEO features like you can't edit SEO for blog posts. They are auto generated every time you change your page title, which is not good for your SEO. As far as blogging is concerned, it offers some basic features like categories, social sharing, email subscription, and comment section. However, there is no HTML editor to throw-in advanced customization.
SEO wizard is the highlight of GoDaddy website builder that asks you a few simple questions to gather requirements and then suggest the best keywords to include to optimize your website. With the eCOmmerce plan, you get access to personal SEO guidance from an expert to help get your products reach your targeted audience.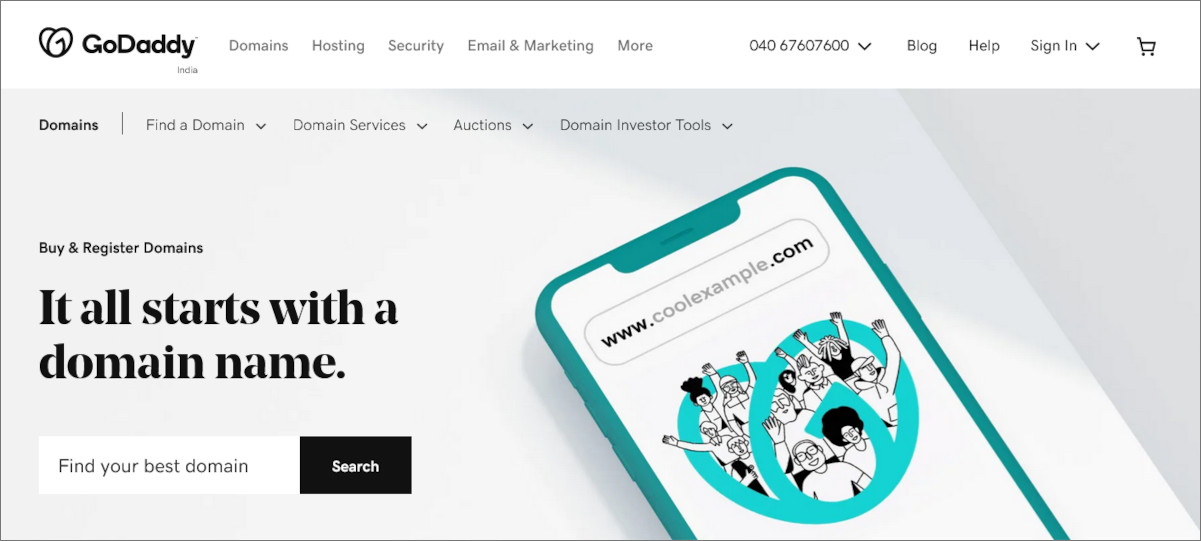 GoDaddy is a domain registrar first and then a website builder. Therefore, it naturally offers the easiest setting up of a domain name. Domain names start at $9.99 to purchase a domain for 1 year but if you choose a 2 year or longer plan, you can get the domain name for just $0.01 for the first year. Even if you already have a domain name, there is a simple way to move it to GoDaddy.
GoDaddy offers SSL security with all the plans. It is helpful in building trust between your site and your end-users by displaying a pad-lock on your site. Moreover, it offers 99.9% uptime and full network redundancy with included hosting. To eliminate the data loss issues, it offers the auto-save feature that will backup your site. It means you can restore the latest version of your website in case your website crashes or gets hacked.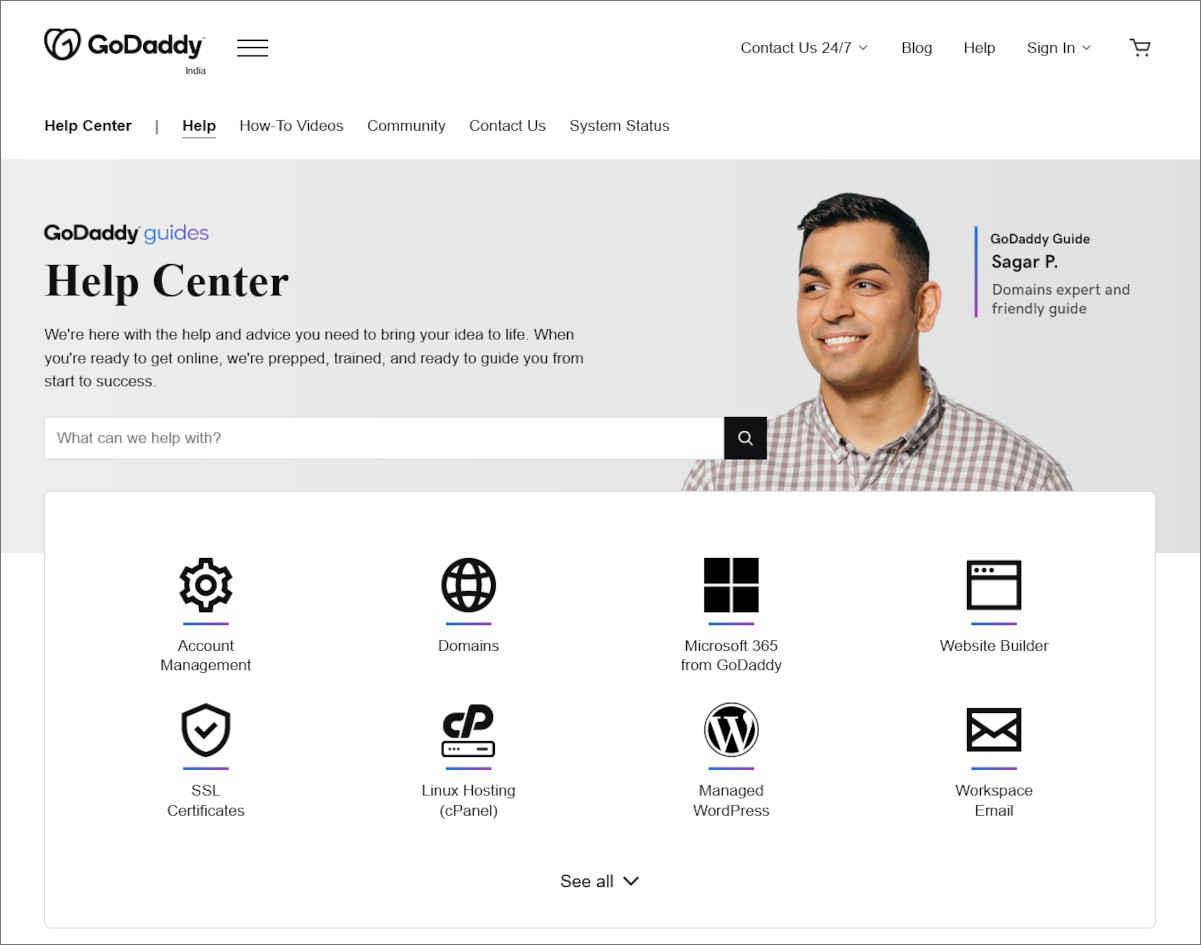 GoDaddy website builder offers a 24/7 phone call customer support to the paid customers. Therefore, you can seek direct assistance whenever you find yourself stuck. Apart from that, there is a live chat feature available, in case you don't want to wait around on the phone. For indirect assistance, there is a help desk that includes blogs, articles, FAQs, video tutorials, and more.
GoDaddy website builder review: Pricing
Pricing plays a great part when it comes to choosing a website builder. Good news: GoDaddy website builder is known to offer one of the lowest average pricing plans. GoDaddy website builder starts at $0 since it offers a free version and four paid plans suiting for different requirements and budgets. Following are the 5 main pricing plans offered by GoDaddy website builder-
Available at $0 a month, comes with the godaddysites.com domain and displays ads at the top of all pages. Limited features at disposal.
Available at $10 a month, allows you to incorporate your custom domain name from GoDaddy or other domain registrars. Ideal for small websites with limited number of social media posts and email marketing sends.
Available at $15 a month, includes some advanced SEO features and digital marketing tools like 500 email sends and 20 social media posts.
Available at $20 a month, includes more capabilities including 25,000 email sends and unlimited social media posts. Moreover, it includes advanced eCommerce features like payment gateways, shipping management, etc.
Available at $25 a month, includes every advanced eCommerce feature one can ever need including credit card payment processors, inventory management, abandoned cart recovery, etc.
Get GoDaddy website builder if-
You want mobile-optimized layouts
GoDaddy is known for offering incredible, mobile-friendly layouts that adapt to mobile phones and tablets automatically. Moreover, the editor is compatible with mobile devices.
You are looking for an All-in-one marketing solution
GoDaddy website builder is ideal for you if you are looking for a platform that comes with a bundle SEO and marketing tools to gain visibility on search engines. Improved blogging feature, built-in SEO tools and email marketing can offer a headstart when it comes to spread a word among your targeted audience.
If you are a beginner and have no coding skills but still want to build your own website, then get GoDaddy as it comes with a visual editor to build a fully-functioning website without any prior web development experience.
Don't go for GoDaddy website builder if-
You are looking to scale up
GoDaddy doesn't offer any App Market like Wix which limits the scalability scope. Therefore, it is not ideal for any website owner who eventually wants to expand their website by incorporating advanced features.
You want Easy and compatible updates
If we have a look at the track record of GoDaddy website builder, it doesn't look so great. It has a history of launching an entirely new website builder every two year or so and offers no way to move your content onto the new platform. You will find yourself stuck with the older products and will be forced to rebuild your website from ground. Therefore, if you don't want to go through all that trouble, then this platform is probably not for you.
GoDaddy website builder Review: Final Words
In a nutshell, it offers a fresh new interface with modernized themes and great marketing features. The ease of use and simple navigation is appreciative which effectively balances simplicity with a good level of flexibility. However, it still has room for improvements, especially when it comes to eCommerce and SEO capabilities. It will serve you well if you are a small business with time-conscious needs and want to go live at the earliest possible opportunity. However, it may not be a good option if you want a personal website or want to have a creative website for your artistic business. Besides, there are a lot of other website builders available out there. Check out our reviews for more.
I hope this review helped you understand the GoDaddy website builder and its capabilities. So, for any query or doubt, feel free to comment below!
 FAQs – GoDaddy Review
Q.1 What hosting plans are there in GoDaddy?
GoDaddy is the most popular domain registrar, but it also provides a pretty good hosting service. Significantly, a solid uptime and page load speed are its main highlights. Additionally, it also offers more than 125 free integrations for your website. Besides, GoDaddy offers a decent uptime for shared hosting plans.
Q.2 What kind of support do I get with GoDaddy?
GoDaddy offers 24*7*365 top-notch customer support. They have a live chat and international phone support. and a decent knowledge database that covers most of the common questions. GoDaddy offers customer support in multiple languages.
Q.3 What nameservers are there for GoDaddy?
If your domain name is registered under some other domain registrar then you will have to update the nameserver for the domain. Therefore, you can find the correct name server in the control panel. So, make sure to find the right information by logging in to the web hosting control panel.
Q.4 Is there any refund policy? How can I avail my refund?
Yes, GoDaddy offers a money-back guarantee under its refund policy, however, it is related to the length of the web hosting plan you have. If you have chosen the annual plan only then you can get a refund with a 45-day money return policy. And, for a refund, you can get in touch with the support team through live chat or give a phone call. For this, you need to go to the 'Contact us page, select the country and run a toll-free call.
Q.5 What features do I get with the GoDaddy website builder?
The best part is that you get so many free templates that can be easily customized to create websites just the way you like. In addition, you can also check out the free image library with more than 8,500 images free. Also, you can add a shopping cart to your website very easily. And, if you do not have much time and need a website immediately, then GoDaddy also offers a pre-built website along with pre-written texts and images. It hardly takes a few minutes and you are good to go.
Q.6 What is the cheapest GoDaddy hosting plan?
GoDaddy's cheapest hosting plan is worth $3.99 per month. It offers features like unlimited bandwidth, 100 GB storage capacity, and free domain service (for the first year).
Q.7 Which GoDaddy plan should I choose for my WordPress site?
WordPress is a self-hosted platform, so the best GoDaddy plan for WordPress users only depends upon the number of sites that are hosted. However, the developer's plan is the most expensive in the package and is made by site owners who have more than 5 websites and at least 7,00,000 visitors per month. While the ultimate plan is you have one or two sites, with 4,00,000 visitors per month. Moreover, it also offers malware protection.
Also, GoDaddy has managed WordPress options, with features like WordPress default installation, dedicated phone support, staging areas.
Q.8 Can I automatically install WordPress using GoDaddy?
Although you need to install WordPress manually, with GoDaddy you get a WordPress managing tool suite, thus the WordPress site software update and backup are automated. Besides, you can use numerous other tools by GoDaddy to further enhance the performance of your website.