eCommerce is a booming industry that enables business owners to widen their horizons and gain more consumers. Shopify is a leading platform in the eCommerce community that offers everything an online store needs for success including payment processors, shipping options, security, speeds, and SEO performance. Let's be honest, choosing the right platform can be more complex than it seems. Especially, when it comes to comparing pricing, performance, features offered, limitations, and more. That is why I bring you this Shopify review that will help you explore every aspect of this eCommerce website development tool.
I will start the Shopify review with the brief introduction to the platform itself followed by its pricing, features, pros and cons. Indubitably, Shopify excels in most areas when it comes to eCommerce but is it really the right tool for you? You will have your answer by the end of this detailed review of Shopify that considers the latest changes released by Shopify in 2020. Before we dive into the review, let's get to know a bit about the platform itself.
What is Shopify?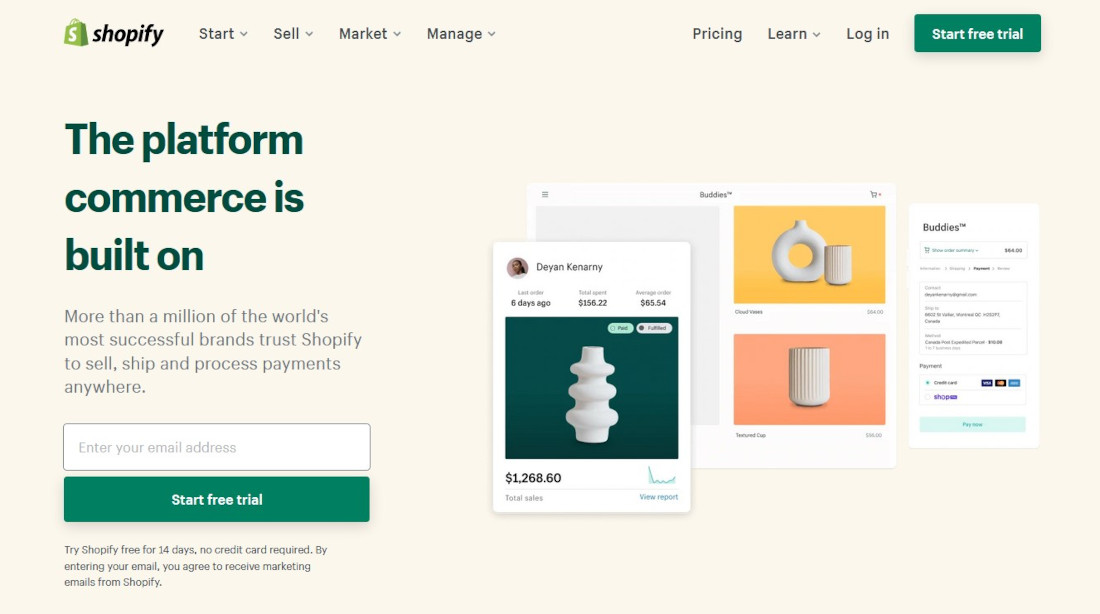 Shopify is geared towards building scalable online stores with hundreds of built-in features and third-party apps. Shopify is a well-popular eCommerce platform that enables users to build their own online store, without having to code. It has a drag-and-drop editor that allows you to create your own store with some of the advanced eCommerce features. Basically, it is an easy way to create and launch an online store and supports your online store in crucial aspects like multichannel selling options (eBay, Etsy, Amazon, Ali Baba, etc), social media integration (Facebook, Twitter, Instagram, etc), and more. Moreover, it allows you to tweak and customize your online store as you want.
All you have to do is sign up and then Shopify itself will take you by the hand through the entire process. Shopify comes with over 100 optimized online store themes for free and paid. Moreover, there are third-party platforms that offer Shopify-compatible themes. Plus, the drag-and-drop editor allows you to make changes accordingly to build top-notch and optimized online stores to generate exceptional conversion rates as compared to any other online platform.
Furthermore, Shopify includes cloud-based hosting for convenient management of your eCommerce site. Considering, it uses an optimized server structure that is designed to manage eCommerce websites dedicatedly, it ensures a smooth user experience. Also, you can always get hosting services from other web hosting providers. Shopify recently added a tipping feature that allows merchants to customize the text during checkout to ask for donations to your business or favorite charity. Plus, the new Curbside Pickup and Local delivery option allows merchants to offer more flexible and contact-free shipping methods.
Who is it for? Extensive Shopify Review
As mentioned earlier, Shopify is a leading eCommerce platform, suitable for anyone who wants to create and launch a fully-functioning website. Shopify allows website owners to take a holistic approach when it comes to selling their goods, mainly due to its multipurpose nature. At the time of writing, Shopify is powering over 800,000 businesses, effectively outperforming all its competitors. You should go for Shopify, if-
You want to set up your online store in an extremely easy way without any technical knowledge in setting up or running a site.
Your store also offers offline solutions because Shopify comes with some POS (point of sale) options like QR code scanner, label printer, and more. Therefore, you can use this platform for your actual brick-and-mortar store.
You need attractive design choices for small business and a plethora of advanced online selling functionalities for running a big store as well.
Shopify Review: Pricing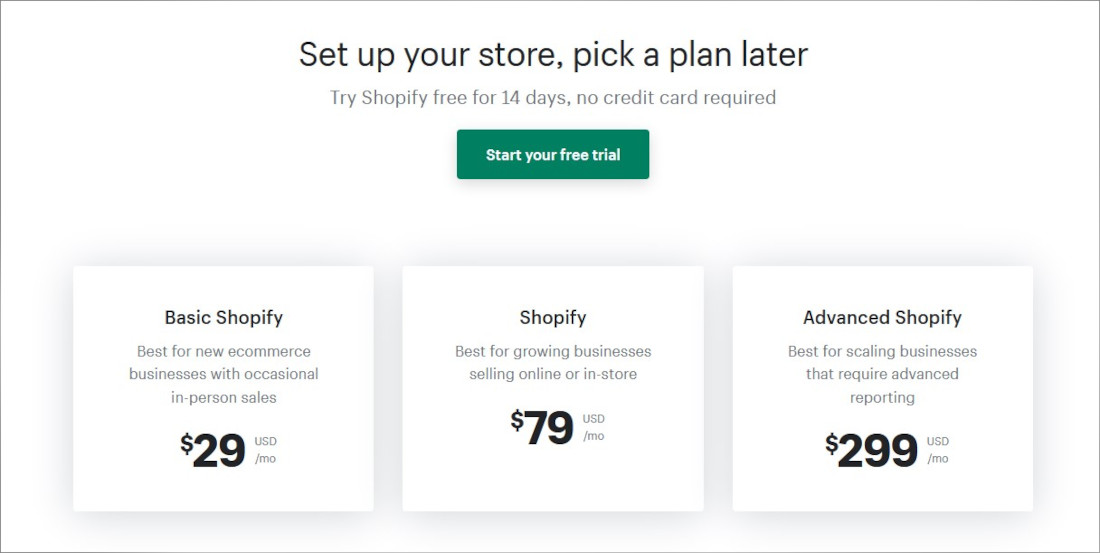 Moving on, let's get to the particularly important part of the Shopify review, i.e. Pricing. Budget and costs can play a vital role when it comes to selecting an eCommerce platform, especially for a beginner. Shopify comes with some reasonably priced plans with scalable options, and necessary features offered even with the lowest-tier plan. First of all, Shopify doesn't offer any free version but it comes with a generous 14-day free trial. Moreover, you don't have to provide credit card details to try out the free trial version, so there are no risks. Shopify offers following plans –
Shopify Lite: Available for $9 a month, allows you to add eCommerce to your existing website or Facebook page with 2% transaction fee on payments apart from Shopify Payments.
Basic Shopify: Available for $29 a month, allows you to build your own online store with essential features with 2% transaction fee on payments apart from Shopify Payments.
Shopify: Available for $79 a month, allows you to expand your business with advanced features like gift card creation with 1% transaction fee on payments apart from Shopify Payments.
Advanced Shopify: Available for $299 a month, allows you to scale up your online store with features like advanced reporting and third party calculated shipping rates. 0.5% transaction fee on payments apart from Shopify Payments.
Shopify Plus: Available for custom pricing, suitable for large-scale businesses with huge budgets and advanced features accordingly.
Shopify plans come with features required to build and run an online store including multichannel integration, social media integration, abandoned cart recovery, discount code creation, and more. However, only downfall is its heavy reliance on apps and transaction fees it imposes on third-party payment gateways that can lead to hefty bills.
Shopify Review: Features
Some of the major features offered by Shopify are as given below-
Shopify offers an extremely easy way to build and launch your own online store. At the same time, it comes with some powerful features for developing and scaling your business. Basically, this platform allows you to do more with fewer clicks. Therefore, it barely has a learning curve especially with its highly-intuitive backend and straightforward navigation. Moreover, the large number of features are structured logically for complexity-free online store set up.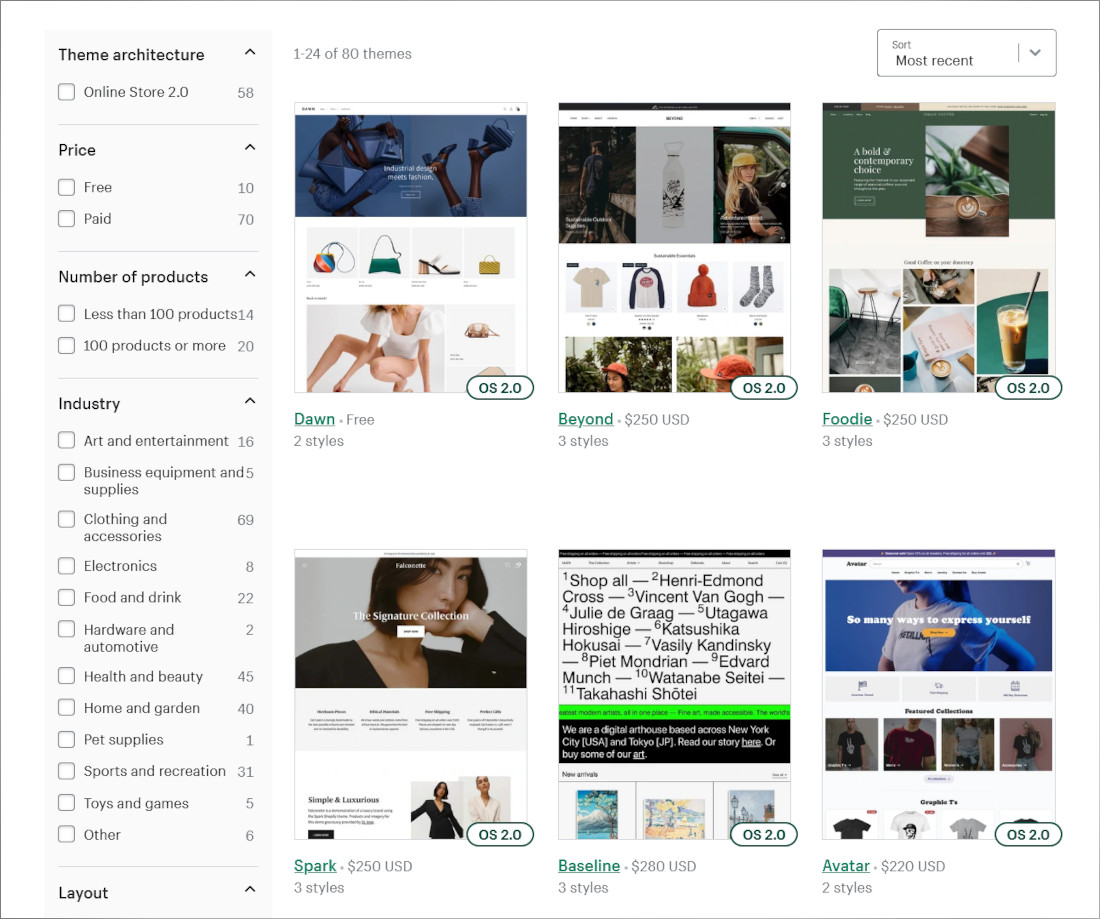 Shopify offers modern-looking and responsive themes with enough white-spaces that can help you grab the attention of your consumers. Moreover, the themes are 100% mobile friendly and can respond to the various screen sizes. It has over 100 of themes and around 10 of them are absolutely free to use. Moreover an average paid Shopify theme costs around $150-200. Furthermore, Shopify enables incredible customization options to personalize them according to the nature and size of your business. In fact, changing the global design is a piece of cake with the easy-to-use theme editor menu that allows you to change font style, font size, colors, and more.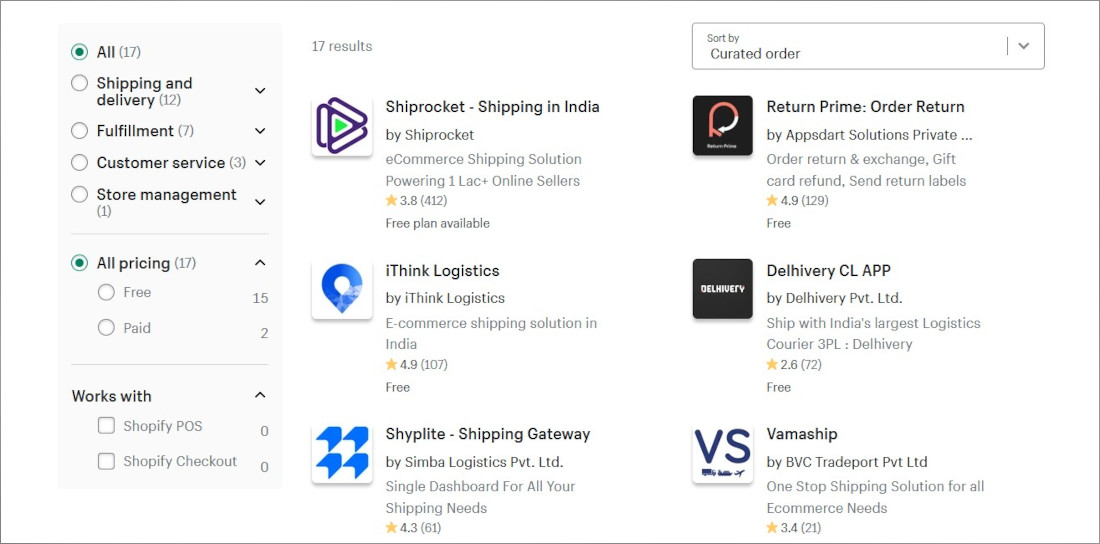 Shopify has a huge App Market with over 1200 apps offering a greater scope for scaling, effectively out-performing other eCommerce platforms. It offers a mix of free and paid apps to choose from. An average paid Shopify app can cost you around $30-80. However, it is always a good idea to be sensible when adding a paid app to your store since it is easy to get carried away. Always read the reviews before committing to any app to realize its worth and application. App Market offers a great way to expand, grow, and scale your online store, without having to go through the crucial coding to add a feature. However, ensure that the app you are choosing is exactly something you need.
Shipping is an inseparable part of online stores. Therefore, Shopify does its best to make the shipping easy and under your control. In fact, Shopify has partnerships with DHL Express, USPS, UPS, Canada Post, and other major courier services to spare you the hassle of getting your own courier service. Also, you can install apps if you need extra shipping functions.
Multichannel integration is a great way to expand your consumer spectrum. This feature allows you to sell your products across multiple major online platforms like Amazon, Ali Baba, Etsy, eBay, and more. Not only does it expand your store's reach, but also enables you to gain a bigger consumer base. For a quick instance, having your own site will establish your online presence but having your products on established platforms can help you target those customers who like to shop from such platforms. However, the multi selling feature is not built-in with Shopify but it can be enabled by installing third-party apps from the App Market.
'Abandoned cart recovery' is a great eCommerce function that allows you to remind your customers about the items they have added in their carts but never checked out. You can send them emails telling them to check out the products with an exclusive offer or just a personalized email to encourage them to complete the purchase.
It comes with the essential SEO features required by any online store or website. In fact, it has blog specific SEO, email marketing tools, and more. The blogging tools may not be as impressive but comes with the essential features like category display, RSS feed, comment section, etc.

Shopify offers a great range of payment options, over 100 different payment gateways including Stripe, Authorize.Net, PayPal, manual payment options, and more. However, it imposes a transaction fee if you use any payment option other than Shopify Payments powered by Stripe. Moreover, you have to use Shopify Payments to sell in multiple currencies. It lets your consumer know the price of your item in their native currency by automatically adjusting the price according to current exchange rates.
Dropshipping is a great way of selling online with lower upfront cost and investment. It takes less time and effort and owners need not to focus on perfecting their online store. However, the dropshipping option is not built-in but comes with great support from dropshipping apps like Oberlo, AliExpress, Printful, and Spocket. Moreover, the basic dropshipping version is free and offers an add-on to import directly from platforms like AliExpress and others.
It protects your online store and transactions with SSL protection, which comes for free. Moreover, it enables you to allow guest browsing as well as customer log-in area to your consumers. On top of that, all Shopify stores are PCI DSS compliant. Overall, the platform protects your and your customer's data and privacy effectively.
Shopify Review: Pros and Cons
Shopify offers everything you could ever need to build, run, and grow your online store. However, there is still some room for improvements in Shopify. Following are some benefits and shortcomings of Shopify-
Pros

Cons

Intuitive backend and straightforward navigation
Greater scalability tools
Exceptional marketing features
Free and paid visually appealing templates
'Abandoned Cart Recovery' option to boost sales
Improve and grow store with over 1200 add-on apps
Generous 14-day free trial
Rock solid customer assistance
Outstanding user experience
Huge third-party App Market

Hefty transactional fee
Higher-tier plans are a bit expensive
No free plan available
No refund policy
Heavily rely on third-party apps as in-built apps are less in number
Shopify review: Summary
It doesn't matter if you have an existing store or just starting out a brand new eCommerce store, Shopify caters for all. It is in-fact an all-in-one eCommerce platform that allows you to create an online store with little time and investment with greater return on investment. Shopify is recommended for anyone who is looking to grow their online presence and leverage the lucrative online eCommerce market. That being said, it is a robust option for dropshipping, small stores, and brick-and-mortar stores. Moreover, the POS features offered by Shopify makes the overall experience even more convenient.
At the same time, it is great for any business that wants to brand online with its advanced features like stunning templates, color-palettes, logo makers, and more. With advanced add-ons available in the App Market, it is truly an appropriate option for anyone who wants to expand their online business in the coming time. Therefore, if your major focus is marketing and growth then go with Shopify without any doubt. For more such blog posts, subscribe to us to get updates delivered directly to you!
In case we've missed something or you want to know more, leave a comment below. We'd love to help you out!
Shopify Review- FAQs
Q1. Is Shopify a website builder?
Shopify is more like an eCommerce platform than a website builder. Yes, it comes with a visual editor that enables you to create an eCommerce website with little to no coding but its capabilities are not limited to being a website builder only. It is a web application that allows you to create your own online store with a wide range of themes that are easily customizable using the visual editor and build a powerful online store. At the same time, it caters for people who are familiar with HTML and CSS by enabling them to throw-in their custom code blocks to make the advanced edits.
Q2. Does Shopify offer a free version?
No, shopify doesn't offer a free version. However, it sure offers a free 14-day trial version that you can use to get to know the platform without having to enter your credit card details.
Q3. Which kind of websites is Shopify ideal for?
Shopify is an eCommerce platform and is naturally the ideal solution to build an eCommerce website. It enables store owners to add many products as they want with unlimited images or video files associated with the product. Moreover, there is a wide array of eCommerce features offered by Shopify including social media integration, POS, importing and exporting, product variants, categories and grouping of products, shopping management, order management, order tracking, inventory management, and a lot more.
Q4. Which one is the value for money plan offered by Shopify?
Basic Shopify plan has the largest number of Shopify subscribers. With this plan, you get all the payment modules, eCommerce features, technical back-end of your store, Shopify buy button, and so much more. Moreover, it offers advanced features like multi-channel selling, Dropshipping, product management, abandoned cart recovery, digital selling, tax calculation, etc.
Q5. Is there a transaction fee charged by Shopify?
Shopify offers its in-house payment gateway. However, if you use other payment gateways, it imposes a transaction fee. Therefore, even after offering the most number of Payment methods, online store owners look for Shopify alternatives due to its transaction fee.
Q6. How many themes does Shopify offer?
Shopify offers 9 free and 65 premium themes. The free themes may not be as appealing but the premium themes have everything you need and they come in a few variants. They are all offered by Shopify's in-house experts, suiting the requirements of various business landscapes and requirements. The premium themes range between $100 to $180 and display nicely across all devices.
Q7. Does Shopify offer SSL security?
Yes, Shopify offers SSL security with all Shopify websites regardless of the pricing plan you have. Shopify understands the importance of a secure online store. Therefore, it offers added security with all the plans.
Q8. Does Shopify support multilingual features?
Unfortunately, no. However, it offers some apps in its app market like Langify that enables you to translate your online store in other native languages. Apart from multilingual capacity, it sure offers support for multiple currencies. Therefore, Shopify could be an adequate option to build a truly international website.