Site123 Review
User Friendliness

Affordability

SEO

Features

Online Store

Customer Support

Templates

Website Speed

Editor Features
Site123 Review
Site123 is a fast-growing, extremely easy to use website builder which makes creating a website as easy as cutting a piece of cake. Without any doubt, Site123 is specifically built for those who need a website up and running with minimum time and effort. It's no surprise that you can get your website running in just three simple steps- select a design, add content, and make it live. Especially for beginners, Site123 is definitely a great option to consider. Instead of the drag and drop element, you can select the design in your niche and customize it, which is worth considering for those who have no experience in design and development. The focus on fast and speedy performance is also something you would love about the builder. Talking about the pricing, it is affordable, there are many server sources to go for.
However, if you want to build a complex website, and need more design freedom, it is not an ideal builder for you. It is also not an ideal blogging platform but you can monetize your blogs. All in all, it does help you build a digital presence easily, especially if you have no coding knowledge. It is straightforward and very easy to use too.
Similar to any other website builder, Site123 website builder is an incredibly easy to use website builder that enables beginners to build websites without having to code at all. Since there are a plethora of website builders available out there with indistinguishable features, it can be difficult to select the right platform. Therefore, I am going to carry out a detailed review of Site123 website builder by exploring every aspect of the platform.The review will start with a brief introduction, followed by pros and cons of Site123. Furthermore, I will review the features of the builder in the detailed manner along with the value for money it offers. Hopefully, you will be clear about the scope of this website builder by the end of this article. Without any further ado, let's get started!
For
Against

Modern and mobile-friendly templates
Impressive App Market
Rock solid customer support

Can't switch templates later
Some features lack templates
No freedom for designing
What is Site123 website builder: Two minute review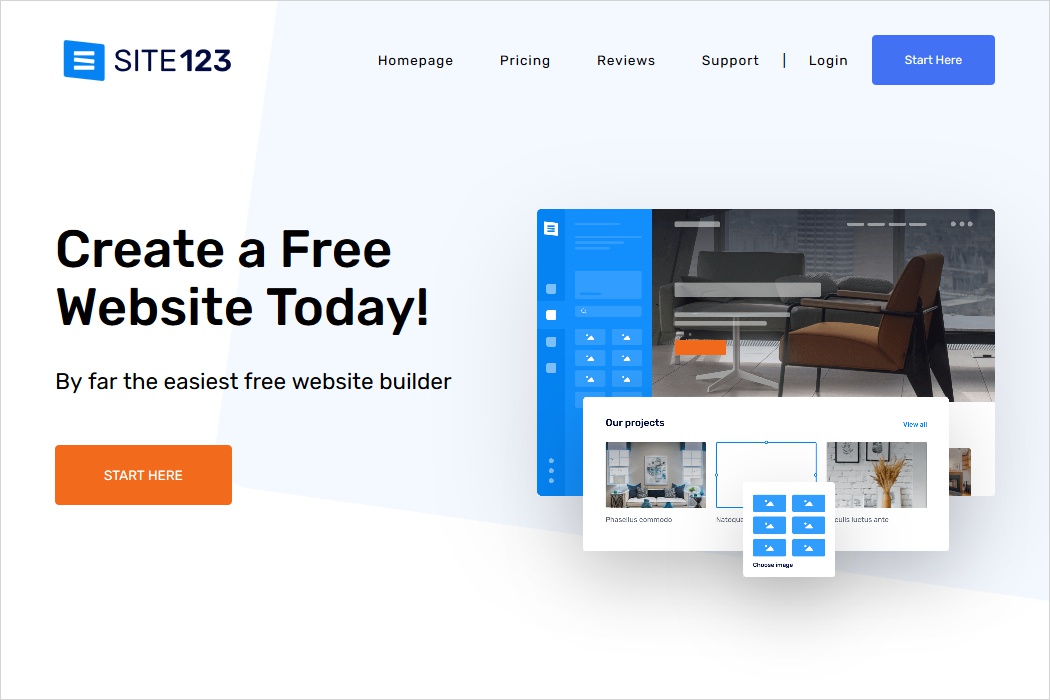 Site123 website builder is one of the easiest website builders available. Unlike other website builders, it doesn't have a drag and drop editor but it offers a visual editor that enables users to build and design their websites without having to code at all. Moreoverover, it has a pretty intuitive interface that offers a handful of customization options to suit your website needs. The online website builder allows you to sign up, choose a template, make edits, and make your website live. Moreover, there are a lot of great options for eCommerce, blogging, SEO, and marketing as well.
The well-designed templates are the main ingredient of Site123 website builder that offers an easier and quicker website building process. In addition, it has an app market that offers the ability to integrate third-party apps seamlessly. Overall, this easy-to-use website builder offers a great website building but is it something you need? Let's find out in the next sections-
Site123 website builder Review: Pros and Cons
Like any other website developer, Site123 website builder comes with a rich set of pros and some cons to it. Following are the pros and cons of Site123 website builder-
Site123 Review: Pros
Simple, beginner-friendly user interface
Extensive product integration
Multilingual website
Versatile eCommerce features
Straightforward interface
An unlimited free version
Site123 Review: Cons
No support for email marketing with the free version
Basic templates
Restricted designing capabilities
Features of Site123 website builder: Extensive Review
Site123 comes with a great range of features to choose from. This section elaborates the features offered by Site123 in detail. Let's get started-
Unlike other website developers, it doesn't have a drag and drop editor but it definitely is easy to use. It basically comes with a visual editor that allows users to add and edit website's elements including general design, website's content, navigation, menu, and more. Only downfall is that you can't freely place website elements because it doesn't provide a drag and drop editor. The editor allows you to pick an element you need and customize it right away. For instance, you can add a text section and edit it by entering your own text. Keep in mind that every section has a predefined structure that restricts from moving pictures, videos, taglines, etc, around as you wish. However, it doesn't offer much of design flexibility and advanced users/designers may end up feeling confined. Overall, SIte123 is focused on quick development of websites instead of designing flexibility.
Site123 comes with over 180 free website templates. All the templates are tagged with relevant categories like business, photography, blog, event, creative arts, landing page, and more. You can either browse through all of the templates or select the relevant category to browse only the handful of the relevant templates. Moreover, all the templates are mobile-responsive and users can preview the desktop and mobile view of the templates before choosing one. Since all the templates are free to use, you get pretty much what you see and may have to upgrade to the paid plans to get access to the advanced customization options.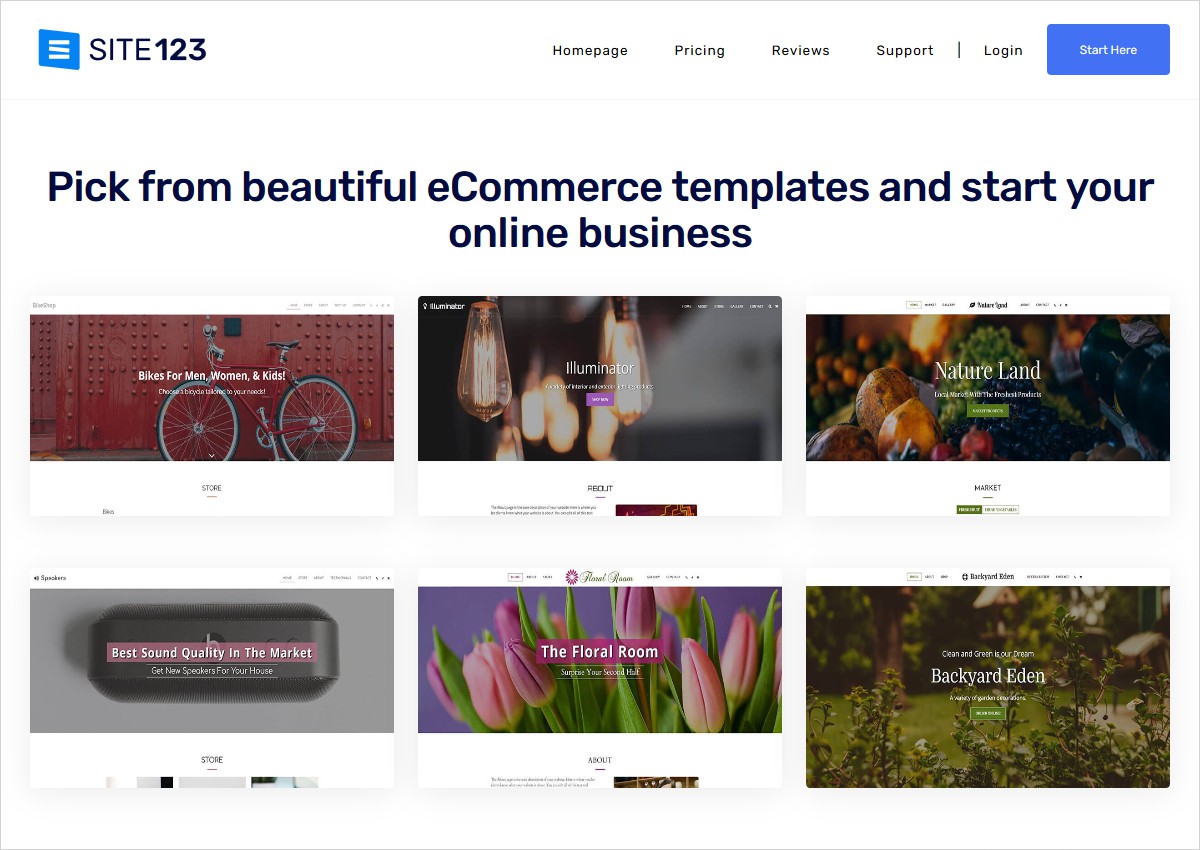 Site123 is a great tool if you want to build a basic online store. It offers all the essential eCommerce features to build an efficient online store to sell your physical as well as digital goods. Moreover, it offers email marketing capabilities to engage your consumers and also incorporates CTAs (Call to actions) to build substantial eCommerce sites. To gain access to the advanced eCommerce features, you will have to upgrade to higher-tier plans, i.e., Professional or Gold plans. These plans will allow you to sell digital goods by membership programs or adding coupons. You can display and process an unlimited number of products, send up to 10,000 marketing list emails per month, multichannel selling, display customer ratings, create personal wish lists for consumers, and more.
Furthermore, it doesn't charge any transaction commission, which is a huge plus. Although it allows you to sell goods even with the free plan, yet it is better to get the eCommerce plan. However, even the higher-tier plans lack advanced financial tools like payment tracking or invoice generation, which makes it inadequate for large scale online stores. We'd recommend you to go for a more powerful solution like Shopify or TemplateToaster to create more substantial online stores.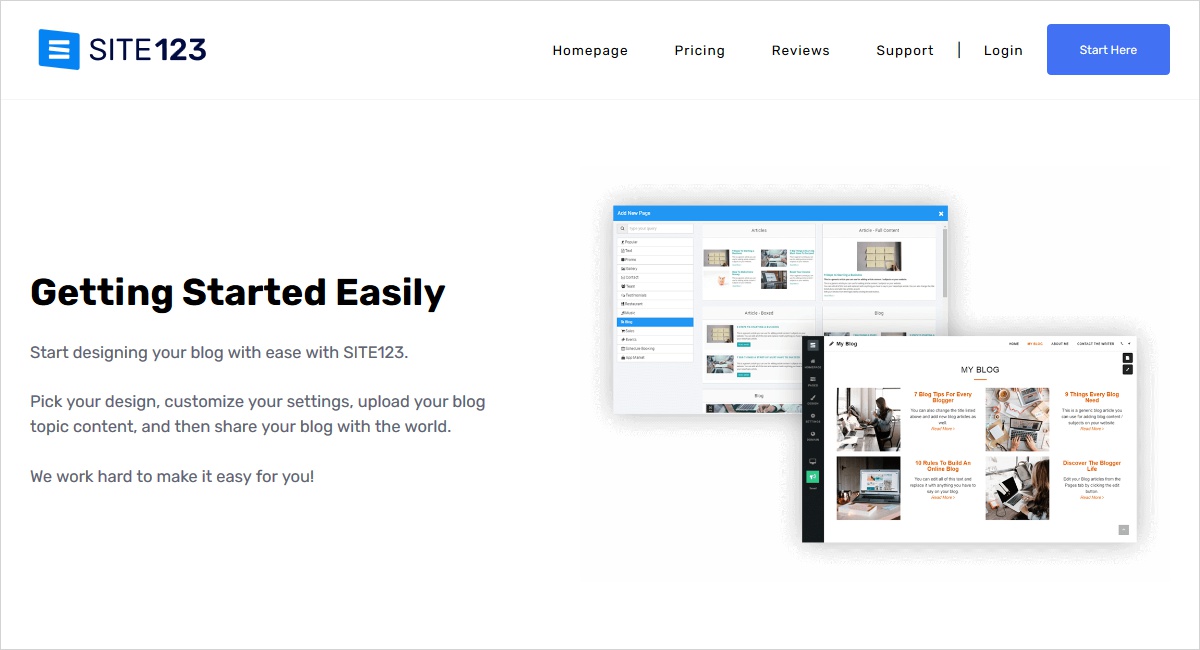 Site123 is known for offering great blogging capabilities to create a blog. Starting from essential blogging tools like post creation, post scheduling, tagging, etc, it offers some advanced features as well. Some of the notable blogging features it offers are social bookmarking, analytics, RSS feed, search feature, and more. So far it seems perfect for creating blog sites but it certainly doesn't offer everything. In case, displaying categories or having a comment section is important for your website, then Site123 may not be the ideal solution for you. However, if you want to create a blog to just write and share your expertise or ideas with your audience, then it is the perfect solution for you. Overall, Site123 offers a very basic blog without any advanced function to engage with your readers like the comment section.
Search engine optimization is important for any website to reach its targeted audience. Just like other major website builders, Site123 allows you to edit the meta title, meta description, page URLs, alt text to images, and more. In case you find all this overwhelmingly difficult, you can seek some help from the guides offered by Site123. Only downfall is Site123 doesn't offer support related to keywords you need to use or such. In that case, it is better you do your homework or hire an SEO professional.
Moreover, Site123 has an internal statistics tool to give you a basic traffic overview and your most buzzing topic. For more advanced statistics, it offers seamless integration with Google Analytics. Lastly, Site123 websites perform exceptionally well on the website speed test tools which is a good SEO indicator. Overall, it comes bearing great on page SEO features for beginners as well as intermediate users. With the paid plans, you can connect to custom domain name from any of the domain registrars.
For basic security, it allows users to set up a specific password and members area with personal security. Apart from that, all Site123 plans come with free SSL certification that adds a padlock to the site's URL. It is not only good for SEO but also builds trust with the consumers. Moreover, the tool is PCI compliant that eliminates the chances of attracting any lawsuit. However, Site123 doesn't have any backup options but it does offer an autosave feature that ensures that you don't lose any of the changes you just made.
Site123 offers a plethora of add-on tools and plugins for SEO, live chat, and more, Site123 offers a rich library, full of plugins and apps that help you scale your website. However, not all the tools are free or included in your plan. Therefore, you will have to pay extra for those tools. Some tools like Facebook or Zendesk chat for customer support can help you improve your customer support and overall services, which makes it worth the extra bucks you have to spend. Anyhow, it is always good to have a backup option for scaling up your website.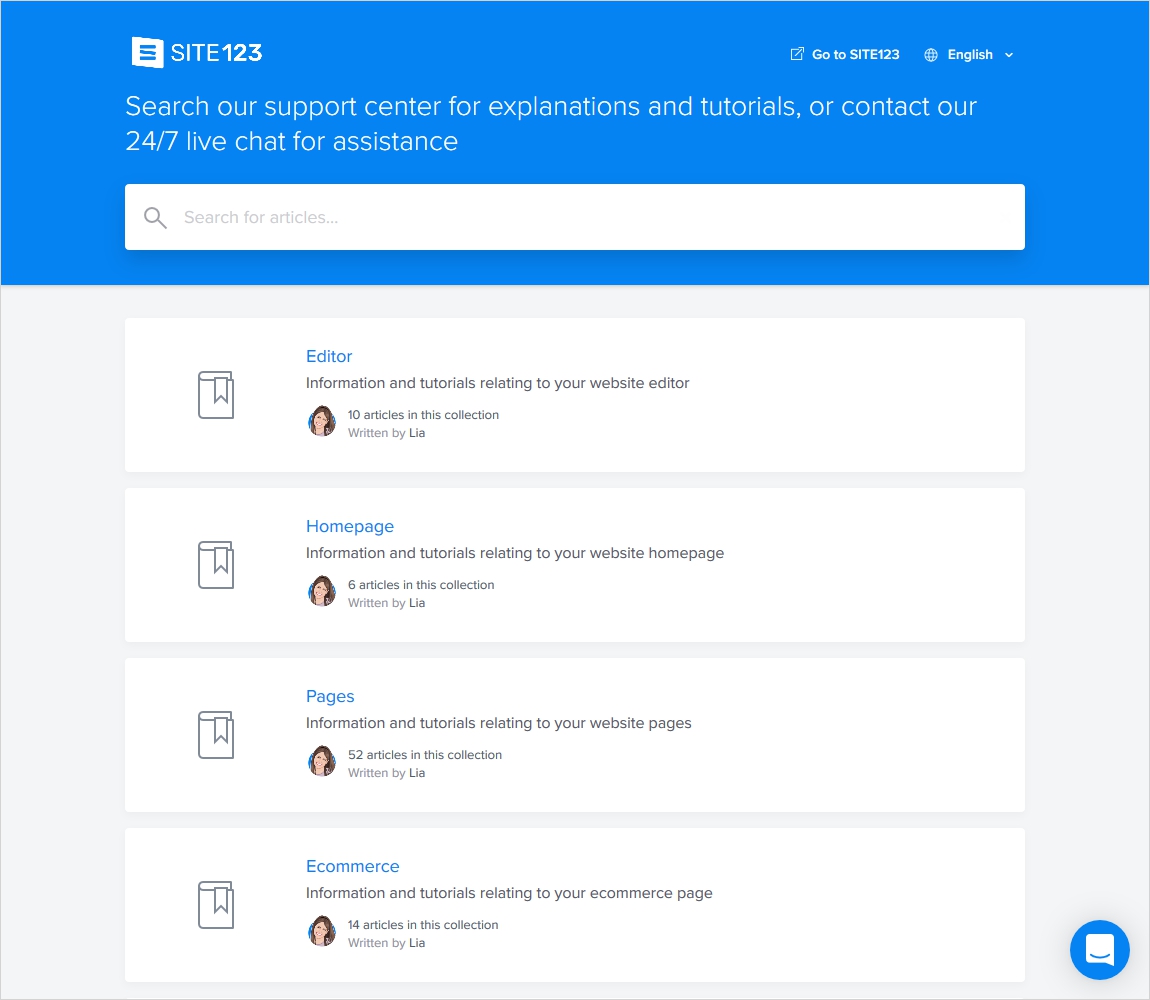 Customer support is important for beginners because they are trying something new and would naturally expect some help at any given point. Site123 offers rock solid support to its customers. Firstly, they offer an extensive knowledge base with articles, blogs, video tutorials, FAQs, and more that covers a wide variety of topics. Next, it offers direct support via email. Their response is often quick and useful. However, the highlight is their 24×7 live chat service offered on the same page as you are building your website, hence, eliminating the need for you to leave the page. Currently, they don't offer telephone support but their email and live chat support is satisfactorily great.
Site123 website builder review: Pricing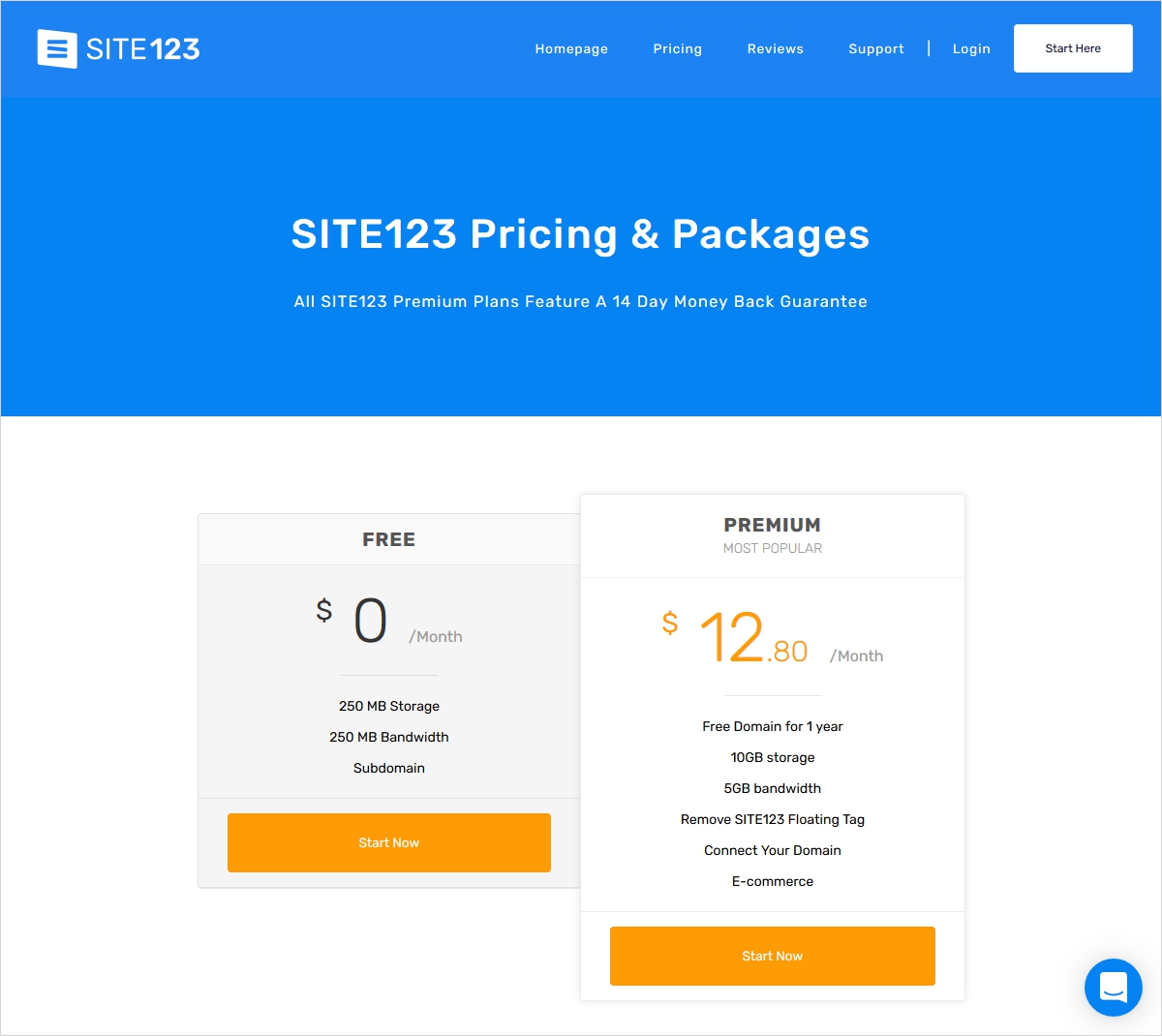 Budget is the most vital factor when it comes to picking a website builder. Site123 offers a free version for an unlimited time period. Apart from that, it has four paid plans as mentioned below-
The website will display a Site123 icon in the footer. Offers some essential eCommerce website features like up to 10 orders per month with cash payment options.
Eliminates the ads and offers Paypal integration. Also, offer translation capabilities in more than one language.
Great SEO and eCommerce capabilities like credit card payment processing.
Offers everything Site123 has to offer including 10 Mailboxes, unlimited orders, and up to 5 languages.
These pricings are the discounted pricing which can be availed after committing to 3-year long plans. In case, you are not willing to commit for 3 year, you can get 2 years, 1 year or 3 month plans. Keep in mind, the longer you commit, the better discount you will get.
Get Site123 website builder if-
You want a straightforward interface
Site123 comes with an extremely simple to use interface that allows you to sign up for an account, choose a template you like, make the necessary edits, and make your website live within a couple of hours, without any coding. It makes the entire website building experience fun.
You are looking for mobile-friendly templates
Site123 offers mobile-first and responsive templates. Moreover, it allows you to preview the layout before choosing them.
You need rock-solid customer care
Great and promptly responsive customer support is a blessing for a beginner and Site123 offers incredible customer support.
Don't get Site123 website builder if-
You are looking to add custom code
Site123 offers no way to gain access to HTML or CSS code. Therefore, if you want to jazz up your website a little by adding your custom code then it may not be the right solution for you.
Site123 offers an autosave function which comes in handy while designing the website. After that, there is no way to make a backup of your site.
Site123 Review as a Website Builder: Final Words
SIte123 promises a hassle-free website building experience, even for beginners. It, in fact, fulfils its stated promise without any doubt. However, I am not sure if it offers the website building experience users look for. Indubitably, it comes with some straightforward features that allows users to build websites in no time but it also restricts the designing and creativity which results in monotonous websites. Basically, it is a rudimentary tool geared towards creating long scrolling one-page websites. Therefore, if you want to create a fully-fledged website then you might want to steer clear of this platform. Apart from that, it offers great tools and add-ons and is perfectly suitable for beginners who want their websites to be up and live in no time. Check out our page for more.
I hope this review was helpful to you in understanding the scope of Site123. In case, you have any questions, please comment below!
Site123 Review- FAQs
Q.1 Why should I choose Site123 as a website builder?
If you need to build a website quickly and do not have much coding knowledge and skills, then Site123 is the platform for you. If you are a beginner, you can make use of design assistance. Site123 will ask related questions about your website and accordingly generate a template for your site that has all features to the purpose. Additionally, the website builder is intuitive and does save you a lot of time.
Q.2 What is the best thing about Site123?
Without any doubt, it has to be the support. You are unlikely to get stuck with Site123 for more than a couple of minutes, as Site123 useful live chat offers 24/7 support. The response time is awesome, and the answers you get do not beat around the bush but are quick and to the point.
However, if live chat is not what you are looking for, they also offer email support, social media advice, and a knowledge database that has comprehensive information and articles.
Q.3 What kinds of templates does Site123 offer?
Unfortunately, Site123 only offers a few variations when it comes to templates, and almost all of them are somewhat similar. Truly, you won't get as much variety as other site builders in the market. Once you choose the template, you have a few options to customize the layout. But, if you are looking for a quick and easy way to set up a website without much customization and variations, then Site123 is a pretty decent option to consider.
Q.4 Is Site123 free?
Yes, Site123 offers a basic plan that is available for free. But for more features, like custom domain name, resources, and features, I recommend getting a premium plan.
Q.5 How much bandwidth does Site123 plans offer?
The free that is the basic plan offers 200 MB of bandwidth and 250 MB storage space, along with a subdomain. While the premium plan offers 5 GB bandwidth and 10 GB storage along with free domain for a year. The plan you choose primarily depends on the website traffic.
Q.6 Can I cancel my service with Site123?
Yes. Site123 offers a 14 days money-back guarantee. If you are unhappy with the services then you can reach you the customer support team and they will help you with the process.
Q.7 Can I add analytics to the Site123 site?
Very well, you can add analytics to your Site123 site but you need to purchase the premium plan for it. You can use the in-built features for analytics or use other services too.
Q.8 What future does Site123 have?
Like any other website builder, Site123 is continuously trying to grow for a better user experience and performance.
If you have purchased any of their plans, you will constantly be updated over emails about their latest features and upgrades. In like manner, Site123 is certainly proceeding on the right track as a website builder and has a long way to go.