Squarespace Reviews

4.6 of 5
Squarespace Review
User Friendliness

Affordability

SEO

Features

Online Store

Customer Support

Templates

Website Speed

Editor Features
Squarepsace Summary
Squarespace website builder recently released a whole new template system that introduced some significant changes to its editor in the last year or so. I will try to cover every feature Squarespace offers along with their feasibility while analyzing its pros and cons in this review. I will try to keep it simple by starting off with what is Squarespace, leading to its pricing and features, cons and pros, listing its alternatives, and then concluding with its brief summary to determine whether the hype is worth it or not. Let's get started!
If you are a tech-savvy person or somewhat interested in website development and building, then you must have heard about Squarespace. Whether it be ad rolls, sponsored posts, or Squarespace review posts, the company has really been putting its name out there. Squarespace is a popular name now, but is it worth the hype? Let's find it out in this post, I am going to write an honest Squarespace review based on my personal experience. Squarespace website builder recently released a whole new template system that introduced some significant changes to its editor in the last year or so. I will try to cover every feature Squarespace offers along with their feasibility while analyzing its pros and cons in this review. I will try to keep it simple by starting off with what is Squarespace, leading to its pricing and features, cons and pros, listing its alternatives, and then concluding with its brief summary to determine whether the hype is worth it or not. Let's get started!
What is Squarespace?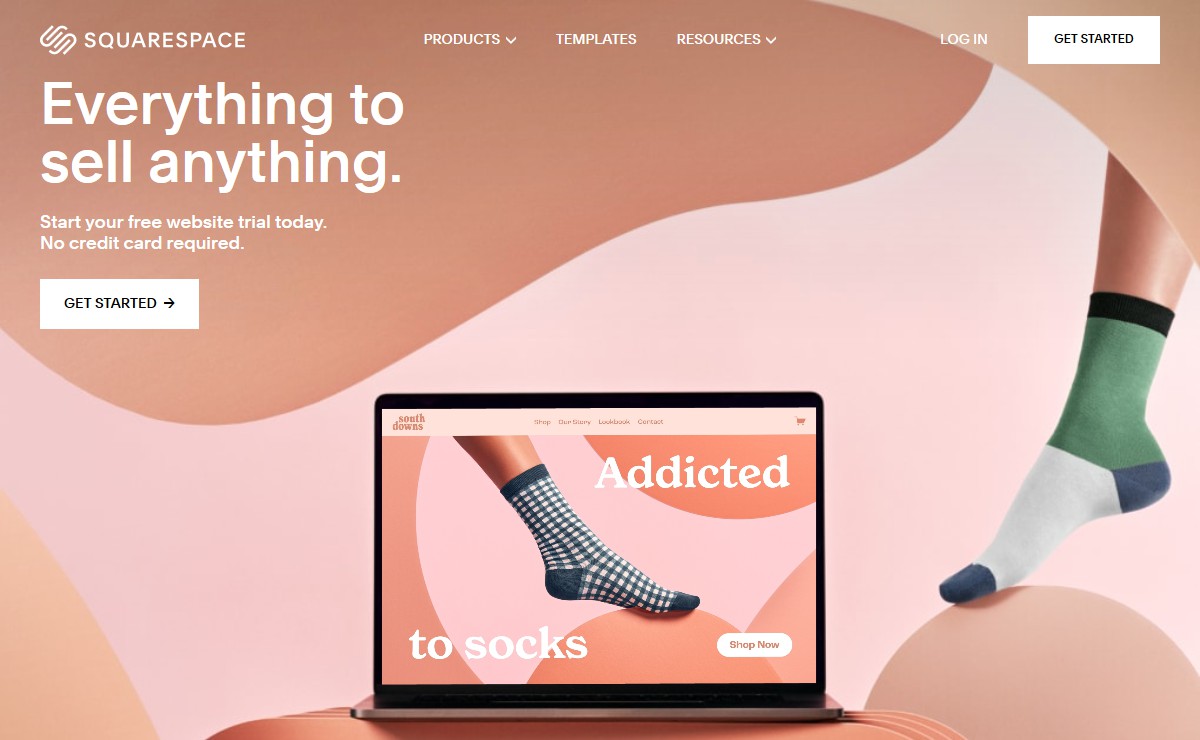 Squarespace is a website builder that caters to both individual users and business. It comes with beautiful themes and additional integrative features to design any kind of website. Basically, it is an established platform that gives you everything you need to build, run, and grow your website. All you have to do is sort out a stunning template that meets your initial requirements and populate it with text, images, and videos, and make your site live. Moreover, it comes with add-on extensions to add digital goods, payment methods, secure checkouts, shipping options, photo gallery, and more.
If you have a creative flair inside you, then unleash it with the Squarespace drag-and-drop concept that enables you to create a website layout as you have imagined, without any coding. It is perfect for building and designing landing pages and web forms to drive more traffic to your website. It offers a wide selection of tools to build different types of websites for different industries including academic, business, personal, management systems, art/music, eCommerce sites, and more. For a deeper understanding, let's move on to the next section.
Squarespace Review of Pricing
The straightforward pricing of Squarespace is easy to understand and quite appreciable. It offers four main plans-
Personal Plan: It is available for $12 a month and is a great solution if you don't need an online store.
Business Plan: Available for $18 a month and offers marketing features like Announcement Bar or Pop-ups. Also offers an online store with a transaction fee of 3%.
Squarespace Online Store (Basic): Available at $26 a month that allows you to sell online without transaction fees and is perfect for small online stores.
Online Store (Advanced): Available for $40 and includes everything needed by an advanced eCommerce store.
There is no free version available but you can try out their 14-day free trial version. Given are the discounted pricing which is only available if you get the annual contracts. Moreover, you get free domain name registration for the first year. However, you can only get the new domain names available, if you have an existing one then you will have to get it from different domain registrars.
Review features of Squarespace
In this Squarespace review, I am going to break down its features with specific details like how easy it is to use? Or how many templates it offers? Let's get going-
Squarespace uses 'beginner-friendly' as its selling point. But, to what extent is it true? While Squarespace is not exactly difficult to use, it certainly isn't the easiest. It offers a nice, minimalistic user interface that offers great user experience, however, usability can be improved. For instance, it asks you to save the changes you make. While there are other similar tools that incorporate auto-save options. It can slow the user down by prompting to save changes again and again. Moreover, it is not the best rated platform by the website speed test tools. Overall, it offers great ease of use but needs to make improvement in the usability.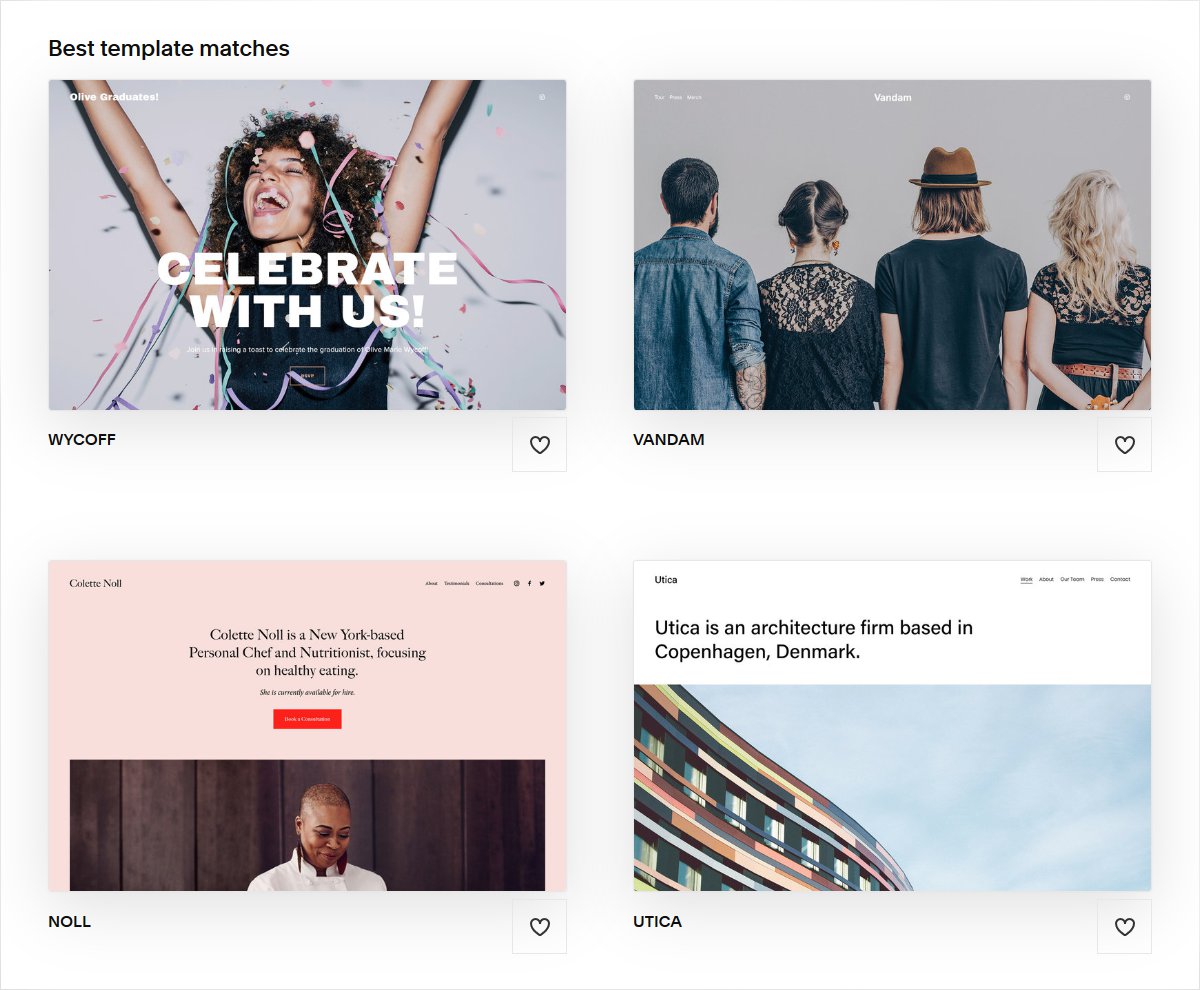 Templates are another great selling point of Squarespace. They offer over 100 different professionally designed, beautiful templates for various website types. Best part is, they keep adding new layouts and make improvements in the existing ones. Moreover, they offer detailed feature lists with every template that offers specific instructions to each template. Furthermore, all the templates are fully responsive with desktops, tablets, and mobile devices. Overall, Squarespace may not offer a great quantity but the quality of their template collection is appreciable.
Customization flexibility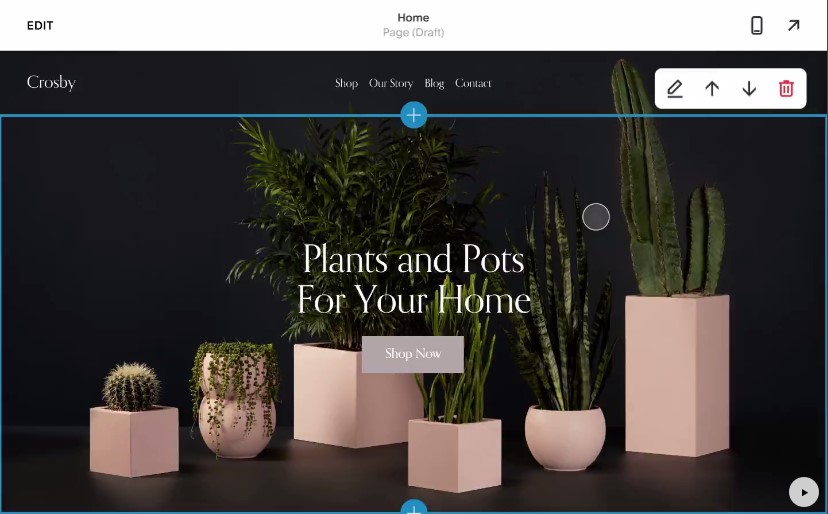 Although it offers a drag-and-drop editor, you still can't just drag and drop elements anywhere on the web page design. It offers a section-based layout which restricts you to dragging and dropping sections and not elements. In the beginning, it may not be as intuitive but you will eventually get a hold of it and will find it better than the independent drag-and-drop editor, as it consumes more time to attain perfection. Moreover, there is no way to add your own custom block of CSS or HTML. Overall, the customization flexibility could use some improvement.
SEO is the main factor that can play a major role in the success or failure of your site. Fortunately, Squarespace comes with some great SEO features that can help you drive more traffic to your website. It follows all best SEO practices including meta descriptions, titles, rich snippets, keywords insertion, alt text, and more. Furthermore, there are guides to help you in Squarespace's support pages. In fact, it offers seamless integration with email marketing tools like MailChimp. Overall, it offers enough SEO features to unify your brand across all aspects of your website.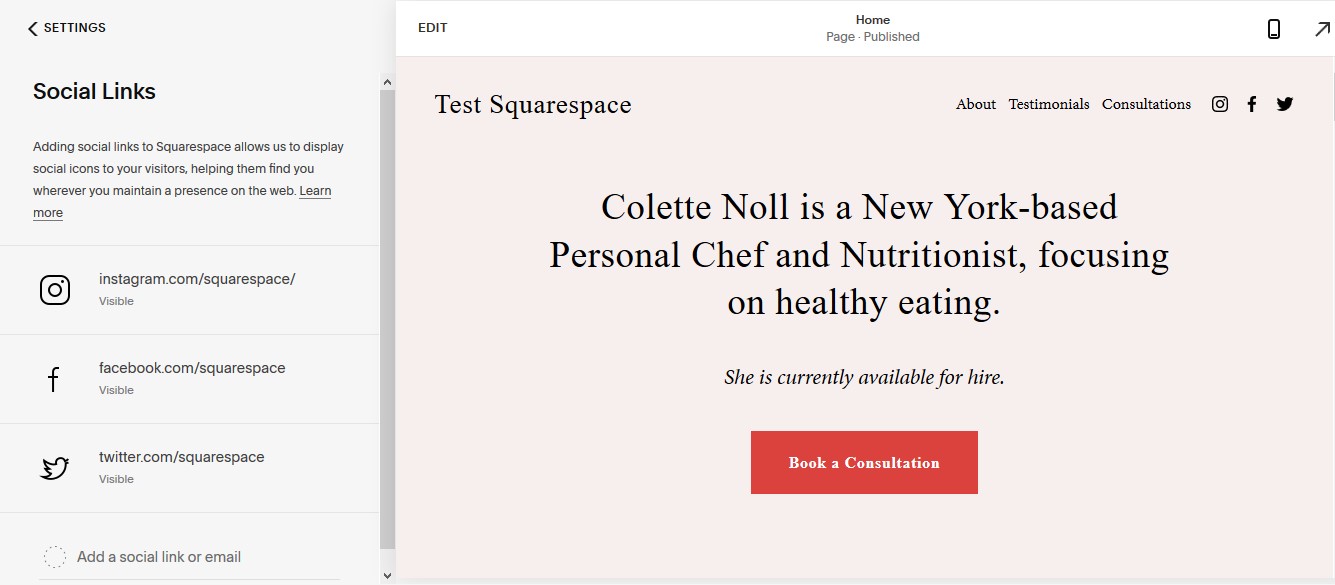 Social media is super important in today's connected era. Squarespace makes it super easy to connect with your friends and followers with easy social media integration. If you want to be popular, you have to offer as many sharing options as possible including Facebook, Instagram, Twitter, YouTube, Pinterest, Google+, and more. Moreover, Squarespace allows you to host your own podcast and publish it to Apple Podcasts or Spotify. Overall, it offers great social media integration.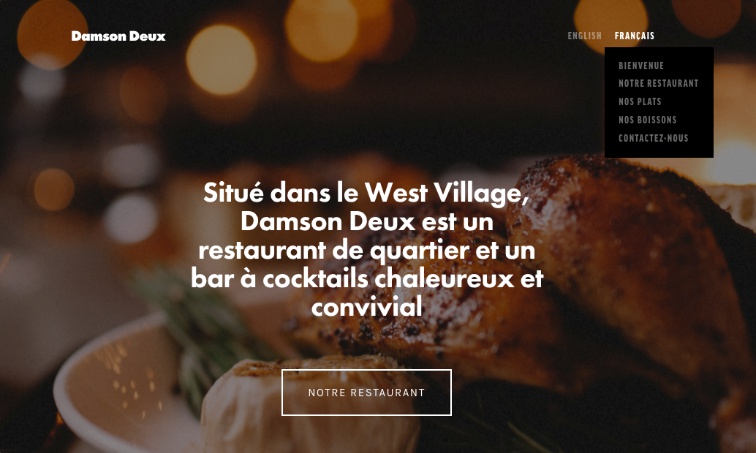 When it comes to multilingual support, Squarespace may not be the ideal choice. The editor supports 6 languages including English, Española, French, Deutsch, Italian, and Portuguese. However, if you are looking for more languages, then you may have to look anywhere else.
App market and extensions
Squarespace offers the majority of features built-in with its platform. However, it also has an App market that offers add-ons and extra features. Although the add-on features are limited to 23, it can help you manage and grow your website. The main add-ons it offers are mainly responsible for finance, Shipping, inventory, sales and marketing. Basically, the add-ons are limited to eCommerce features and they require to widen their spectrum when it comes to add-ons.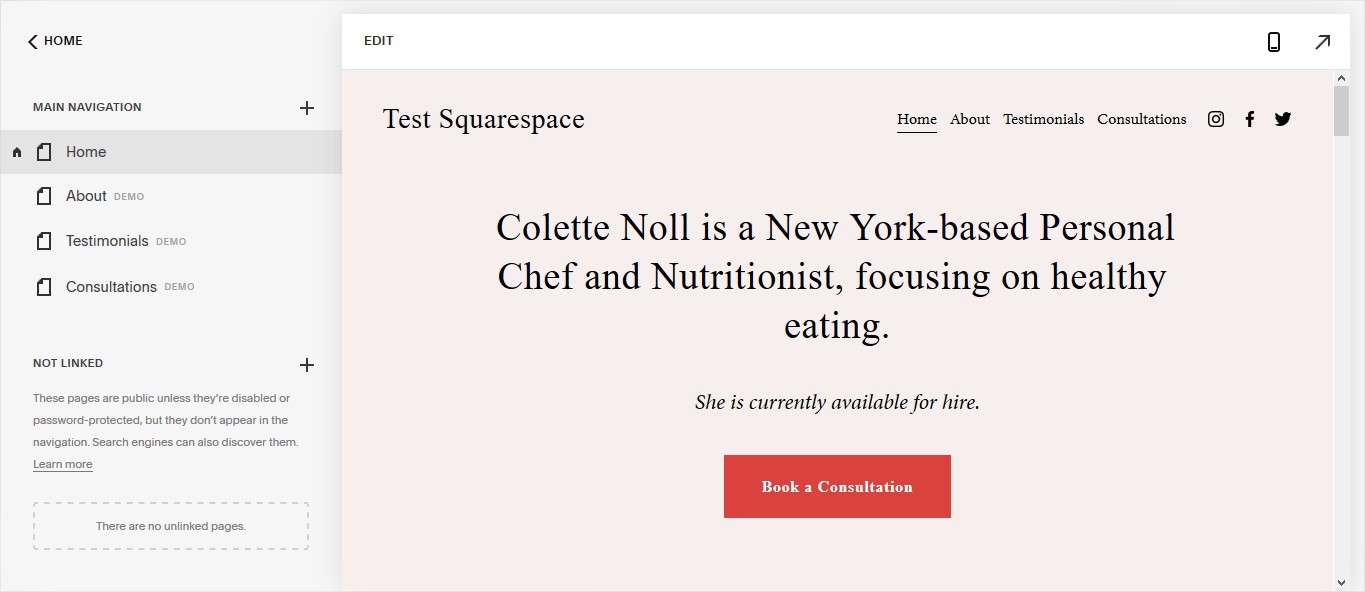 It is true that Squarespace allows you to create an unlimited number of pages. However, there isn't an effective way to organize a large number of pages. After the main navigation menu, the next level includes folders, which is far too complicated than it needs to be. Therefore, it doesn't offer suitable navigation for larger websites that require a deep menu directory because it will make it more complicated than it has to be. In simpler words, it allows you to create very flat websites with a maximum of two-levels of navigation.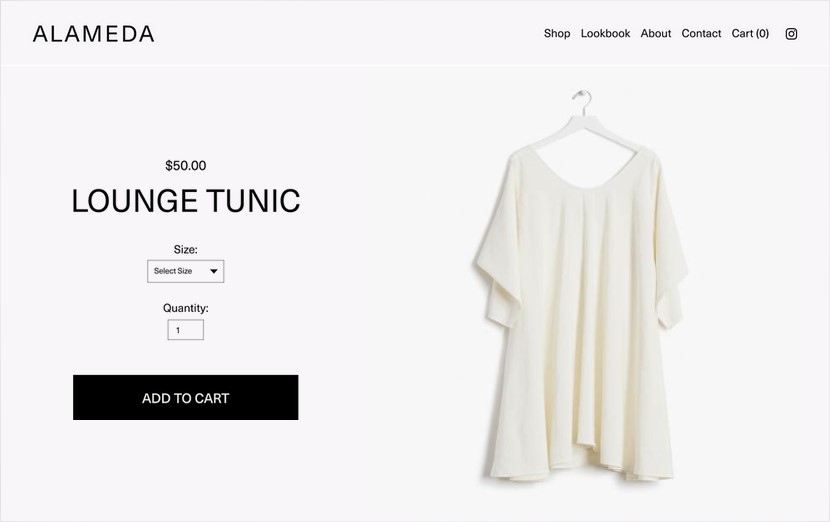 Squarespace offers the best eCommerce features as compared to any other website builder. They even have a dedicated plan for an advanced online store that includes everything an eCommerce site requires, perfectly suitable for eCommerce website development. It enables you to sell digital goods and subscriptions as well, allows you to customize email receipts, seamless Apple Pay integration, create multiple product variations, and more. In 2019, they launched a new POS (Point of Sale) feature that integrates with Square's credit card reader. Overall, it is one of the best eCommerce website builders.
Squarespace offers every blogging-specific feature you can ever imagine. It integrates a WYSIWYG editor to add blog posts and edit it. Moreover, it lets you save and schedule posts for publishing blog posts. A unique feature it offers is a heart icon for liking, comments, and a share icon. Basically, it can turn your blog into some kind of social media platform. Furthermore, you can enable an RSS feed for your blog and use email to write more posts when you're afield. all in all, it is one of the best blogging platforms to run a blog. You can find out more by reading Squarespace vs WordPress.
Squarespace offers built-in security to fight off malware, DDoS attacks, or unwanted bugs. It keeps a check on the traffic your website gets and denies the access to malicious traffic to prevent flooding of your resources with malicious traffic with the intention of DDoS attack. Moreover, it offers free SSL certificates for your website to encrypt any information entered through your website. It is especially important for sites which process payments, such as online stores. Overall, it comes laced with important protection measurements. In fact, it offers a great backup and restore option in case data loss. Moreover, it offers a 30-day buffer to restore your deleted blog posts or web page.
Squarespace offers adequate help and support to its users. It provides a high quality range of support options including Live chat (Monday to Friday), in-depth knowledge base, video tutorial, online community forum, 24×7 email support, and 24×7 social media support via Twitter. However, it doesn't offer phone support which can be important sometimes in case of emergency. Therefore, it doesn't offer a perfect but sufficiently adequate support. Further more you can get services of Squarespace designer UK for custom development.
Pros and Cons of Squarespace
No website builder is the jack of all spades. They all have their set of benefits and shortcomings. Review of pros and cons of Squarespace are as given below-
Pros

Cons

Offers over 100 beautiful templates optimized for desktops, mobile devices, and tablets.
Ability to restore deleted posts and pages for up to 30 days.
On-the-go features for blogs, edit pages, and more.
Provides support through live chat.
Offers Squarespace mobile apps for both iOS and Android.
Comes with SSL certificate
Good eCommerce capability

Not suitable for larger websites
No autosave
Comparatively slower page speeds
No free plan
Navigation can be improved
Squarespace Alternatives
Squarespace is best for personal websites. For example, photographers and artists can use this platform to showcase their art and expertise. However, it might not be able to perform well when it comes to building an advanced online store with flexible features. In that case, you might want some alternatives. Here are some Squarespace alternatives-
Wix: Wix is a well-popular online website builder that offers advanced add-on tools for eCommerce stores. Use this platform to build beautiful online stores and showcase your products. However, it lacks the support for digital goods.
TemplateToaster: It is an offline website builder, you can use to create your own website regardless of the industry. It comes with a wide selection of beautiful templates. Moreover, the offline tool offers a drag-and-drop editor that still offers you the freedom to add custom blocks of HTML or CSS. Overall, it is best for beginners as well as professional developers and designers.
Summary of Squarespace review
Overall, Squarespace deserves all the hype as it is an all-rounder online website builder. They've managed to combine ease-of-use with beautiful templates and beat-in-class features. Moreover, the offered integrations are impressive. Yes, it is not a perfect website builder but they are working towards it constantly. However, if we talk about pricing, it may come off as a bit expensive as compared to other alternatives like TemplateToaster. Overall, Squarespace is a flexible way for individuals to build flat websites with two-level folds. For anyone who is looking to build a good-looking, highly professional portfolio site or business site, Squarespace will cater to your unique requirements quite effectively.
FAQs
Q.1 Is Squarespace a good platform for beginners?
Squarespace is an excellent website builder. It is user-friendly and simple. But it may have a slight learning curve for someone new to website building. Long story short, it is certainly not the easiest of all the website builders out there but very much flexible in approach.
Q.2 Is Squarespace good for SEO?
Yes, it is. Squarespace provides all of the necessary tools that one requires for technical SEO and to build an optimized website. SEO features include alt tags, meta titles and descriptions, AMP support, SSL certificate, and more. In addition, it also provides rich snippets, sets up 302 redirects, and can also be used to set up XML sitemaps which allows search engines to crawl your website and index it.
Q.3 Can I get Squarespace for free?
No, Squarespace does not offer any free plan. This means you need to sign up with a paid plan to make use of Squarespace. However, what it does offer is a 14 days free trial. So you can try and check out the website builder before paying for any of the plans.
Q.4 Is Squarespace a good platform for eCommerce?
Yes! Although Squarespace is not specifically designed to build eCommerce stores, it is out there doing well. It offers amazing eCommerce features that can be integrated into professional template designs. Some of these features include an in-built shopping cart, unlimited products, and also sell physical and digital products and also service-based products.
Q.5 Is Squarespace a safe platform? How much traffic does it support?
Squarespace makes use of SSL for encryption in editing mode- it is one feature that is unique to Squarespace. Thus all of the important customer information and data is safely encrypted. When it comes to traffic, both Unlimited and Business plans support unlimited traffic.
Q.6 Does Squarespace support 301 redirects?
Yes, Squarespace supports 301 redirects so you can easily set up URL mapping. Therefore, if you want to move your website from the previous system, you can redirect the old URLs which may otherwise cause errors and issues.
Q.7 What languages are supported by Squarespace?
Squarespace allows you to build multilingual websites. Currently, the website builder supports 6 languages – English, German, French, Spanish, Italian, and Portuguese. Thus you can create various pages for different languages on your website.
Q.8 What kind of customer support do I get with Squarespace?
Squarespace offers 24/7 email support and live chat from 4 am to 8 pm EST, during the weekdays (that is Monday to Friday). All of the customer support team professional work from their New York, Dublin, and Portland headquarters. Also, if you think you can fix the issue yourself, you can check out their 'Forum' and 'Knowledgebase'. Notably, Squarespace does not offer phone support.