Currently, the market is full of advanced and capable website builders and the only problem is choosing the best out of a lot of adequate options. Have you shortlisted your options to some of the best website builders but couldn't decide on one? That's when we come into the picture as your knight in shining armour! We, here at TemplateToaster, are going to review this amazing, offline TemplateToaster website builder to find out if it would meet your requirements better.
This article will offer you a comprehensive discussion on each aspect of the website builder in order to help you select the right platform out of all the website builders. The article will review pricing, pros and cons, and features. Although TemplateToaster seems to offer similar features to any other website builder, it still is pretty distinguishable. Therefore, I am going to write down the features and types of services it offers, so you can decide whether it is the right platform for your next endeavour.
For 
Against 

Easy-to-use interface
High compatibility with most CMSs
A wide range of templates

No Mac or other OS support, except for Windows
Need basic CMS knowledge for development
What is TemplateToaster Website Builder: Two-Minute Review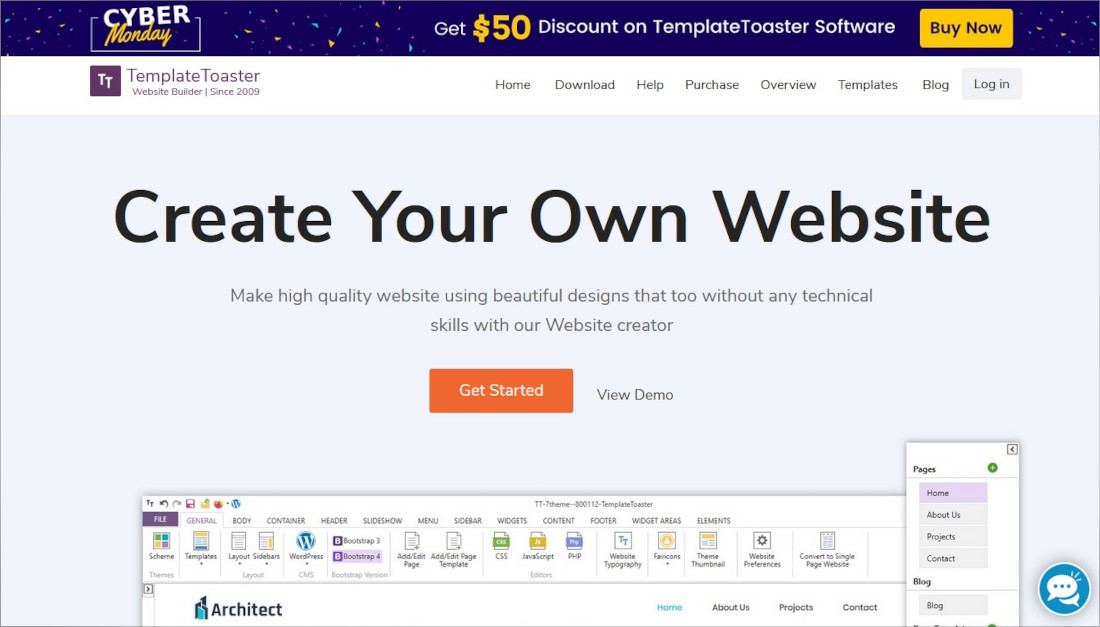 TemplateToaster is a straightforward offline website creator with the most modern features that enables users to build websites without coding. It has over 100 templates neatly placed in various categories to help users to find the most relevant template without having to browse through them all. All the offered templates are professionally designed and responsive to various screen sizes. In fact, you can start from a blank canvas and create your own unique website layout. Its main feature is forms, which allows you to build and incorporate a wide variety of forms to your website including sign up form, contact us form, payment forms, etc. Moreover, it offers a drag-and-drop editor that allows users to create their own website and position the website elements, however, they want, without having to code.
Furthermore, the advanced system allows you to gain access to the raw HTML and CSS files to throw-in custom code blocks for advanced customization. It is a cost-effective offline website builder that comes with a wide range of stunning templates that allow you to build a professional-looking website without having to code at all. Also, it has various  pricing plans  to suit the needs of users and their requirements.
As you can see it caters for all kinds of users. For beginners with no web development experience, advanced templates are the most viable option. It creates a functional website while offering the information on the progress taking place.
Again, the drag-and-drop editor is for the users with intermediate skills who want to have some control over the designing of their website but with minimal fuss. Lastly, the ability to throw-in advanced CSS for advanced users who want to make professional edits with their custom code edits.
TemplateToaster Website Builder Review: Pros and Cons
Like any other website builder, TemplateToaster comes with a truck load of benefits and features that enables you to create beautiful websites with minimal efforts. However it has some downsides as well. Following are the pros and cons of TemplateToaster website builder-
Pros of TemplateToaster Website Builder
A simple and responsive single-page website creator
Offers a free version and the premium plans are the cheapest available
Choose from intuitive templates or start from scratch
Comes with premium URLs and templates
Currently over 100+ custom designs
Offers widgets and regions integrations
Allows you to incorporate a wide range of media files including images, custom icons, slideshows, videos, etc.
Offers 14-day free trial
Highly compatible with all major CMSs
Cons of TemplateToaster Website Builder
Not a cloud-based solution, which means you have to install the software on your device to build your website.
Available for Windows exclusively
Features of TemplateToaster Website Creator: Extensive Review
As we have mentioned before, TemplateToaster differs from typical SaaS website builders. It is a desktop-based application which you need to download first before getting to work. Also it may feel a little outdated but the good thing is that you can use the website builder even without a stable internet connection. Following is the review of some of the most notable features of TemplateToaster-
TemplateToaster is known for its ultimately simple and intuitive website building platform. It mainly focuses on the beginners and keeps the website building incredibly simple for them. All they have to do is sign up for an account, pick a template, make the necessary edits, and go live. Moreover, it has a dashboard that displays various customization options and previews of each of your websites. In fact, you will find links to everything on the dashboard including documentation, customer support, your account information, website building editor, and more. Furthermore, it allows you to build only single-page websites which seems like a restriction but it actually keeps the website building to a simple and intuitive process.
In addition, TemplateToaster comes with some advanced features to create simple and convenient websites with minimal hassle. It guarantees a unique website with greater designing capabilities and features. In fact, TemplateToaster offers standard drag-and-drop editors for users who just want their website up and running, fast. Overall, this website creator offers a great interface when it comes to ease of use along with the best standards of stunning websites.
When it comes to templates, TemplateToaster comes with a wide range of over hundreds of templates split up in various categories including business, portfolios, photography, fashion and beauty, health and lifestyle, events, and more. All the templates are designed by in-house designing experts for better user experience and greater responsiveness. Therefore, all the templates are mobile-optimized. Moreover, the most templates are for one-page websites but they are all mobile-friendly designs. Furthermore, the templates can easily be edited according to the requirement of users and you can always include your own images, videos, and text to alter it according to the nature of your business. Moreover, the drag-and-drop editor allows users to move website elements wherever they want. Overall, TemplateToaster offers a great range of quality free templates and themes suited for various CMSs and business industries.
Building a website with TemplateToaster is pretty simple as you can either pick a template and alter it as you wish or you can start from scratch. To edit any website element, just click on it and choose from the options. In fact, it comes with an array of features that caters for both beginners and professionals. One can either build a website by picking a template and making little to no edits or start from scratch and throw-in their custom code blocks, Moreover, its visual editor allows users to create unique layouts for their website. Basically the platform is basic and easy to use but it is not the best when it comes to designing flexibility. Overall, TemplateToaster brings more designing flexibility with three different interfaces, strategically designed for users with different skills.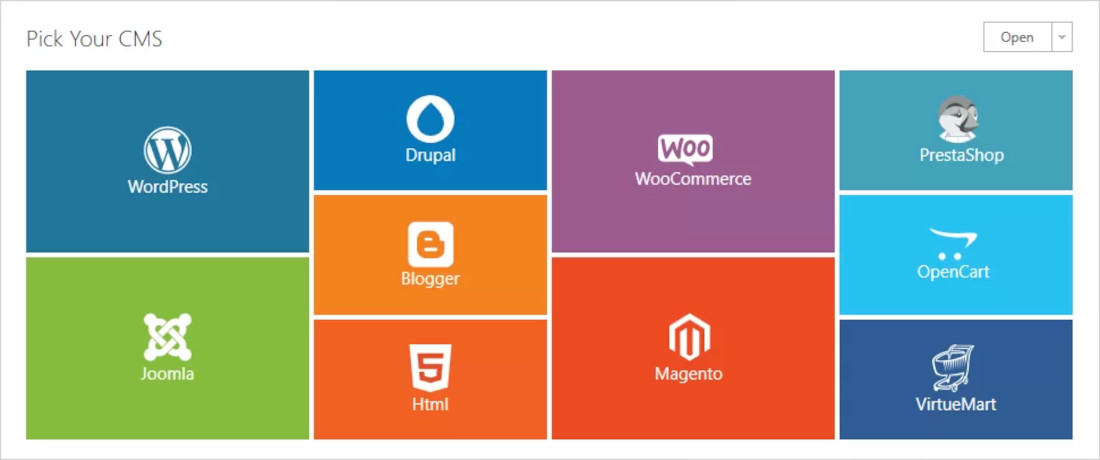 As mentioned before, TemplateToaster is compatible with almost all major CMSs including WordPress, Joomla, Magento, WooCommerce, Drupal, BigCommerce, VirtueMart, PrestaShop, and more. It basically is a cross between a website builder and CMS template and makes a great eCommerce website builder.  Therefore, as a template builder it gives users the ability to design themes and templates that make any website eCommerce ready. You can leverage various eCommerce tools it offers designed specifically to build and manage an eCommerce store. For instance, you can add content under the 'widget' option and display the 'buy now' button. Furthermore, TemplateToaster offers a lot of eCommerce features including product variants, shipping management, inventory management, etc. However, it still lacks multichannel selling.
TemplateToaster offers a great range of blogging templates. Moreover, it is highly compatible with WordPress.org, which is a perfect platform to build and run a blogging site. In fact, TemplateToaster is a great blogging platform and offers all the essential blogging features including adding post, scheduling post, display categories, tags, incorporate comment sections, etc. Furthermore, there are some advanced features available as well such as support for multiple authors.
Compatibility with Major CMSs
In the current technical era, CMS has become the default framework for building a website that fits its business niche. For instance, WordPress is ideal for a personal blog, Magento for an eCommerce site, Joomla for an artistic website, etc. Fortunately, TemplateToaster offers the ability to create templates or themes that fit all the major CMSs. It can cater to various CMSs including WordPress, Joomla, Magento, WooCommerce, Drupal, BigCommerce, VirtueMart, PrestaShop, and more.
SEO and Marketing Features
Search Engine Optimization (SEO) can't be overlooked since it plays a vital role in the overall success of your website. With TemplateToaster, you get essential SEO features including customizable title, headings, meta tags, meta descriptions, and more. In fact, you can drive more traffic to your website by adding alt text to your images. Moreover, TemplateToaster offers every on Page SEO feature including rich snippets, allows you to incorporate RSS feed, custom domain names, and more. On top of it, all the templates generated by Templatetoaster are aligned with W3C and Bootstrap standards thus TemplateToaster websites perform great on website speed test tools. In addition, there are various plugins available that enable seamless integration to ensure your TemplateToaster websites maintain SEO-efficient content.
TemplateToaster doesn't have the best customer support but it is adequate to help their customers out. It offers direct support via email. As per our research, they respond to email within 2-3 business hours. They offer guides as well that covers the bare essentials regarding website-building experience. In fact, it offers a 'help' tab that offers both direct and in-direct help. The direct help comes with a full-blown knowledge base full of FAQs, guides, tutorials, articles, blogs, etc. Whereas they offer direct customer support via email and live chat.
TemplateToaster Website Builder Review: Pricing
Budget can have a significant impact on your pick. You can download the software for free from the official website. Then, explore the features without having to pay using the trial version. However, you won't be able to install the templates on CMS and have to upgrade to the paid version. Let's review two paid versions offered by TemplateToaster. Here in TemplateToaster website builder review I discuss what they both have to offer in terms of value for money-
This version is available for just $49 and offers support for all available CMSs along with free updates for one-year, Bootstrap framework, customer support, and a set of available templates.
This version is available for just $149 and offers the possibility to create a website from scratch. Moreover, you can use your own images in the templates, remove _ttr CSS prefix, element level bookmarking, FTP option, custom modules via widgets and regions, and a lot more.
The standard edition looks pretty limited in features but the Professional edition offers everything it got. However, it is still one of the most affordable website builders since they have a one-time purchase license. It means you have to pay the one-time amount to get your hands on a wide range of templates, customization, optimization, etc. However, unlike other website builders, it doesn't offer anything additional like domain names, hosting, free perks, etc.
Get TemplateToaster Website Builder if-
You want Mobile-Optimized Layouts
After Google announced the importance of mobile-friendliness in website ranking, almost every website owner started scrambling to convert their websites into mobile optimized websites. However, with TemplateToaster, you don't have to worry about that. It offers exceptionally responsive templates to build mobile-optimized websites. All the websites and templates generated using this tool are automatically mobile responsive. Moreover, the templates and themes generated using this software are aligned with W3c, Bootstrap, and other web development standards. They contain clean and concise code to maintain the efficient navigation and user experience. This is something often overlooked by most website builders and can result in W3C compliance issues and consequences.
You are Looking for Drag-and-Drop Template Builder
TemplateToaster is an ideal solution for beginners because it offers a drag and drop template builder. Therefore, the users don't have to code and the learning curve is pretty easy. In fact, if you need to build your website and make it live at the earliest possible opportunity, then TemplateToaster is an ideal solution. With the drag and drop editor, you can add the website elements, move them around, change their attributes, in no time. Moreover, you will be able to create a design template you prefer without having to code at all. In addition, the modifications are easy to make with the visual editor. Best part of this is, you know what you are doing and you can see the preview of the end-results before making your website live.
If you want to integrate dedicated widgets or regions for specific tasks, like FAQs or related articles, TemplateToaster offers the possibility to do it. It's designing editor enables you to add as many widget areas or regions as you want in your website. This way you can easily sort the content on your website if you have lots of content by sorting them into sub-categories or sub-sections while improving the overall site navigation.
Don't get TemplateToaster Website Builder if-
You are Looking for Cloud-Hosted Platform
TemplateToaster is different from other website builders. It is more like a tool to create a template or theme. Therefore, you will not be getting additional services like hosting, SSL certificates, domain name, email marketing, and other free perks. If you are looking for the whole package, then TemplateTOaster is not the right solution for you.
You don't know CMS Basics
TemplateToaster offers a drag and drop editor and an intuitive website building interface. However, you will still need to be familiar with the CMS basics, a basic overview of customer journey, and how websites work. If you are a naïve user and starting from scratch, then it may not be the best solution for you to build a website.
If you are using any OS other than Windows, then it can be an issue. Currently, TemplateToaster software is available for Windows users only. Only work around available for Mac is to use TemplateToaster within a virtual machine which of course isn't the ideal situation.
 Final Words: TemplateToaster Website Creator Review
Here is your detailed TemplateToaster review. While choosing a website builder, the first thing you should do is gather your unique business requirements. As per the review, TemplateToaster is ideal for creating an out-of-the-box website with minimum hassle while offering a great platform for creating a small and medium business website. If you need to establish an online static website with the main purpose of informing your targeted audience about your business using a single-page website, then go for TemplateToaster. Moreover, if you need to add dynamic elements to your website like a blog or a small online store, TemplateToaster is an ideal option.
I hope this article was helpful in highlighting the key aspects of TemplateToaster. In case you still have doubts, reach out to us by commenting below. We'd love to help you out.
FAQs
Q.1 What is TemplateToaster?
TemplateToaster is a powerful offline website builder that you can use to build and design professional-looking websites, without prior knowledge about coding or programming. It has some powerful features like a smooth and clean drag-and-drop editor, WYSIWYG editor. Besides, you can also customize templates and generate themes using this software. Moreover, it is a desktop-based software and allows you to create themes or templates for major CMS platforms like WordPress, Joomla, Drupal, Prestashop, and Magento.
Q.2 What are the major advantages of TemplateToaster?
The platform offers tons of editor tools that you can use to build various types of pages and stunning website layouts and styles. Apart from text and images, you can also make use of an extensive widget library and make your website unique. All of the basic website features like navigation menus are available with the builder. In addition, you can also save the files in plain HTML/CSS, which remove the CMS dependency. 
Q.3 What are some major features I get with TemplateToaster?
TemplateToaster is a feature-rich website builder that makes web designing a simple, smooth, and enjoyable experience. Here are some of the best features it includes:
Content import and export

CMS theme builder

Pre-built templates

Survey builder

Landing pages

Real-time editing

SEO management

Drag and Drop

Online store builder
Q.4 Is TemplateToaster worth your time and money?
TemplateToaster is a clean and straightforward CMS template generator and website building platform. It allows you to create unlimited themes and templates to work with the major CMS platforms. In addition, it offers complete flexibility with powerful drag and drop feature that allows you to work easily without having to code. Also, cross-platform capability makes it a better choice over traditional themes for CMS.
Q.5 Is TemplateToaster easy to use?
TemplateToaster is a desktop-based application so you will have to download the software and install it on your system to make use of it. Unlike most of the site-builders that run on the web browser. However, on the positive side, you can use TemplateToaster even if there is no internet connection or bad network.
So, once you download and install the software, you need to choose the CMS, select a template from the ready-made layouts, use the tools to edit it, change, and customize your designs.
Q.6 Are TemplateToaster designs responsive?
TemplateToaster designs are responsive as all of the templates and themes generated using this software are mobile-friendly and can be viewed on devices like tablets, smartphones, laptops and more. When you use TemplateToaster will look awesome because it supports Responsive Web Designs. 
Q.7 Does TemplateToaster offer any free trial?
Yes, TemplateToaster is available for free download. You can use the trial version to create unlimited themes or templates and have no restrictions. However, to create the installable template packages you do need to purchase a premium plan that is the Standard and the Professional edition. 
Q.8 Is TemplateToaster SEO-friendly?
Yes, it is a powerful, clean hybrid CMS template generator and website builder. You can create unlimited themes for major CMS platforms, along with the power and flexibility of using a drag and drop interface, which completely removes the prerequisite and hassle of coding. TemplateToaster comes with H1 to H6 headings, clean and structured paragraphs that allow you to make your templates SEO-friendly. You can also integrate plugins to further improve the optimization.