Weebly Review
User Friendliness

Affordability

SEO

Features

Online Store

Customer Support

Templates

Website Speed

Editor Features
Weebly Summary
Weebly is one of the biggest names among the website builders which is now under parent company Square. It is a clean drag and drop builder with more than 40 responsive themes. The most impressive thing about Weebly is that it is very easy to use, hence a perfect choice for beginners and small businesses. It offers impressive tools like drag and drop, which are highly impressive to use for beginners. Again, Weebly makes it easy to add and edit code, so if you have the slightest knowledge of programming, it can be great to use. Besides, it gives a fair amount of extended functionalities that make it an excellent choice for eCommerce too. Overall, the ease of use is one of the best things about the site builder, it literally has no learning curve, simply drag and drop the elements, and edit the settings and features as required. However, one shortcoming I found was that now that the Weebly entire focus is on eCommerce, few features have been run down. Otherwise, it is a great choice to build online stores, blogs, portfolios, and small websites.
With the advancement of technology, codeless way of building websites is gaining popularity rapidly. For the beginners, website builders offer a set of tools, like building blocks and drag-and-drop editor that they can use to visually assemble a website.
Weebly
is one of those website builders that allows you to build a fully-functional site without having to code a single line. However, the most frequently wondered question about Weebly, or any website builder, is how adequate they are when it comes to building a sophisticated website with advanced features. Therefore, I am writing this Weebly review to elaborate how legit this website builder is. Anybody who is interested in website builders must be aware that Weebly is maintaining two editors at the moment: The Weebly editor and the Square editor. The latter editor is their latest addition for novice users with easy to use interface but less flexibility. The purpose of this Weebly review is to discover the latest changes made by Weebly for its users. This guide will cover the pricing, features, pros and cons, and alternatives of Weebly. Without any further ado, let's dive in!
What is Weebly?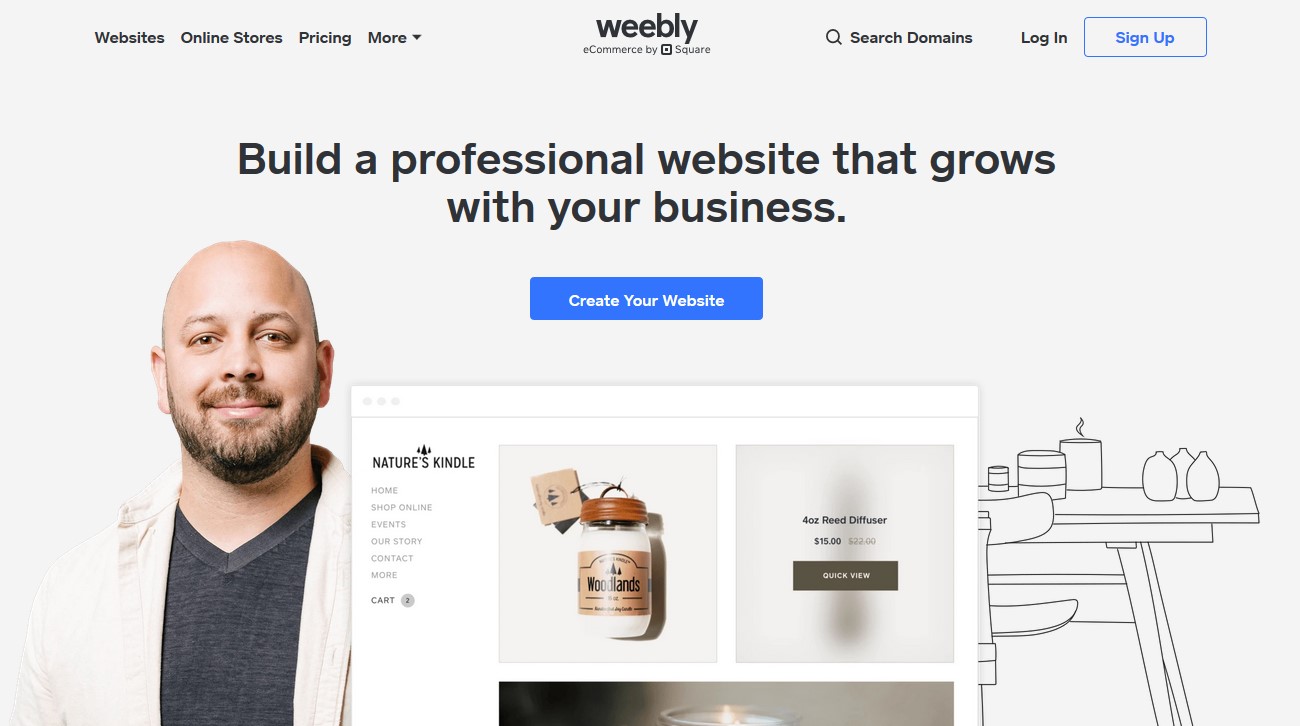 Weebly brands itself as a web host and is much more than that. It is an adequate website builder with over 50 million websites built, making it one of the top-ranking website builders. Moreover, its wide range of built-in features makes it suitable for various kinds of website including eCommerce, blogging, portfolios, personal websites, and more. It is simply an intuitive and powerful online website builder that enables its users to build and customize visually appealing sites without having to code. Moreover, it comes with a generous free version that comes with adequate features to not only build but also publish a website. A user can publish their site using Weebly's subdomain like: yourname.weebly.com.
Weebly was first introduced in 2007 with an impressive user base, In 2018, it was acquired by Square, the iPad cash-register-app developer, for $365 million. It led to an incredible eCommerce platform with a seamless integration with payment modules. Now it has two editors: a Weebly editor and a Square editor. Weebly editor is an easy-to-use flexible editor meant for customizing non-eCommerce websites while Square editor is a less-flexible editor meant for eCommerce websites. I will explore more features of Weebly in the following sections of the article.
Weebly Review: Pricing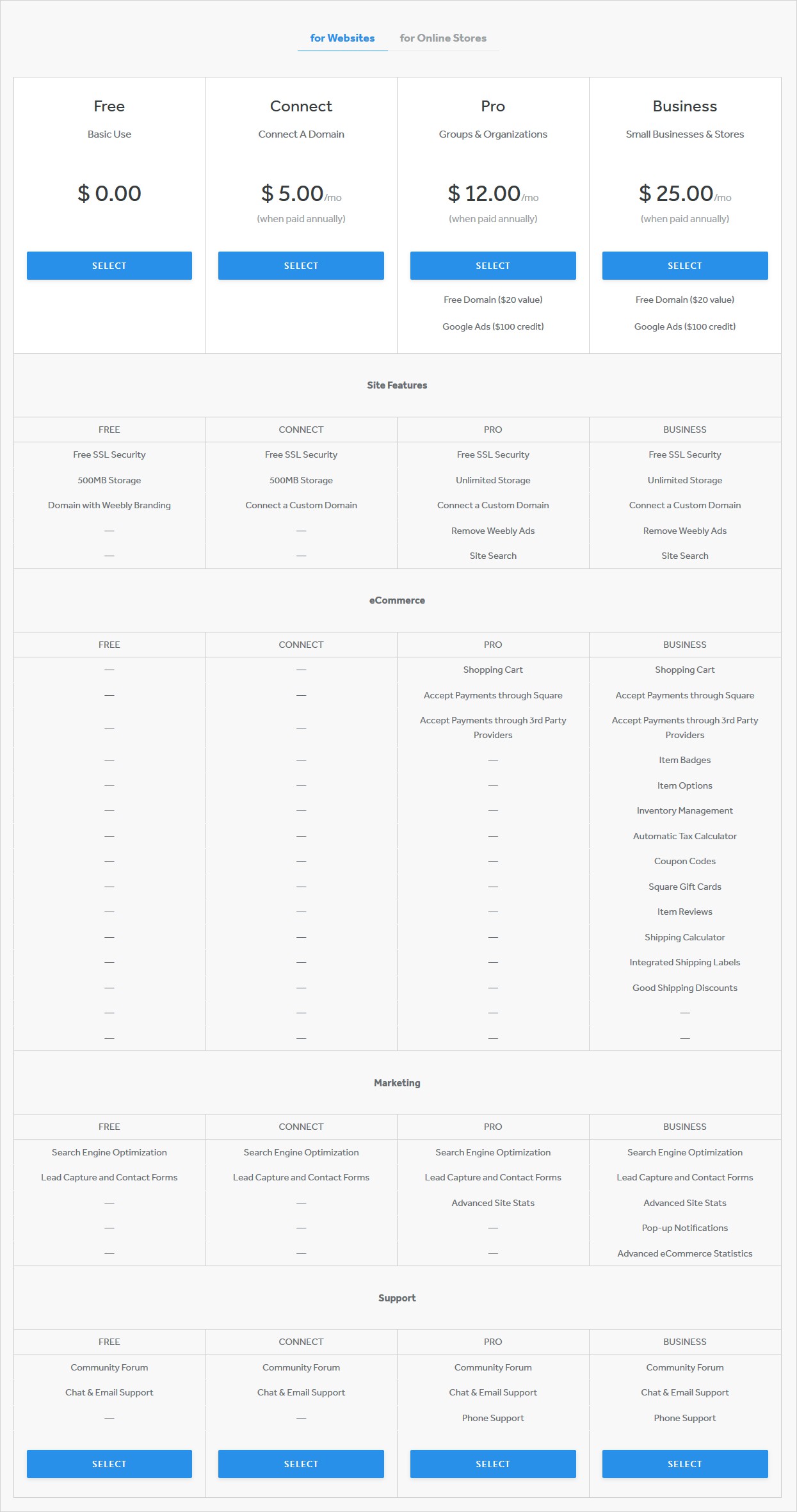 Weebly comes with a generous unlimited free version with all the basic tools. Features like 500 MB storage, Weebly subdomain, free SSL certificate, etc, is enough to create an entry-level website with average features. However, if you want more than this, you can upgrade to premium plans as follows-
Connect Plan: Available for just $5 a month (with annual billing), offers SEO optimization, contact forms, community forum, email support, etc.
Pro Plan: Available for just $12 a month (with annual billing), offers custom domain from other domain registrars, ad-free site search, limited eCommerce features, advanced site stats, phone support, etc.
Weebly Business Plan: Available for just $25 a month (with annual billing), offers every advanced feature available with Weebly including all the advanced eCommerce functions, and priority support.
If you are a beginner and are still trying out various website building options, then go for the free version. It will allow you to get familiar with the platform and if the platform works out for you, you can upgrade to paid plans. However, the plans totally offer value for money by offering storage, SSL, custom domain names, web hosting, and more.
Weebly Review: Features
Let's go through the wide range of features available with Weebly to judge the level of convenience it can offer while building a website. Some of the the most impressive website building features that will help use review Weebly are as follow-
As far as the speed is concerned, Weebly registers a solid rating on most of the website speed test tools. Therefore, Weebly is suitable for users who want to create a faster website. For the most optimized speeds, you can run your Weebly site on their own hosting server. Moreover, they protect your website against spam and hackers as well. With Business plan, it offers password protection to the entire site of the selected web pages you want to protect. Moreover, it offers backups of your site to avoid data loss. However, it is a manual process and doesn't allow you to restore the backup. There are still speed and security risks but it bundles up the security costs with the existing plans, which adds value to the money.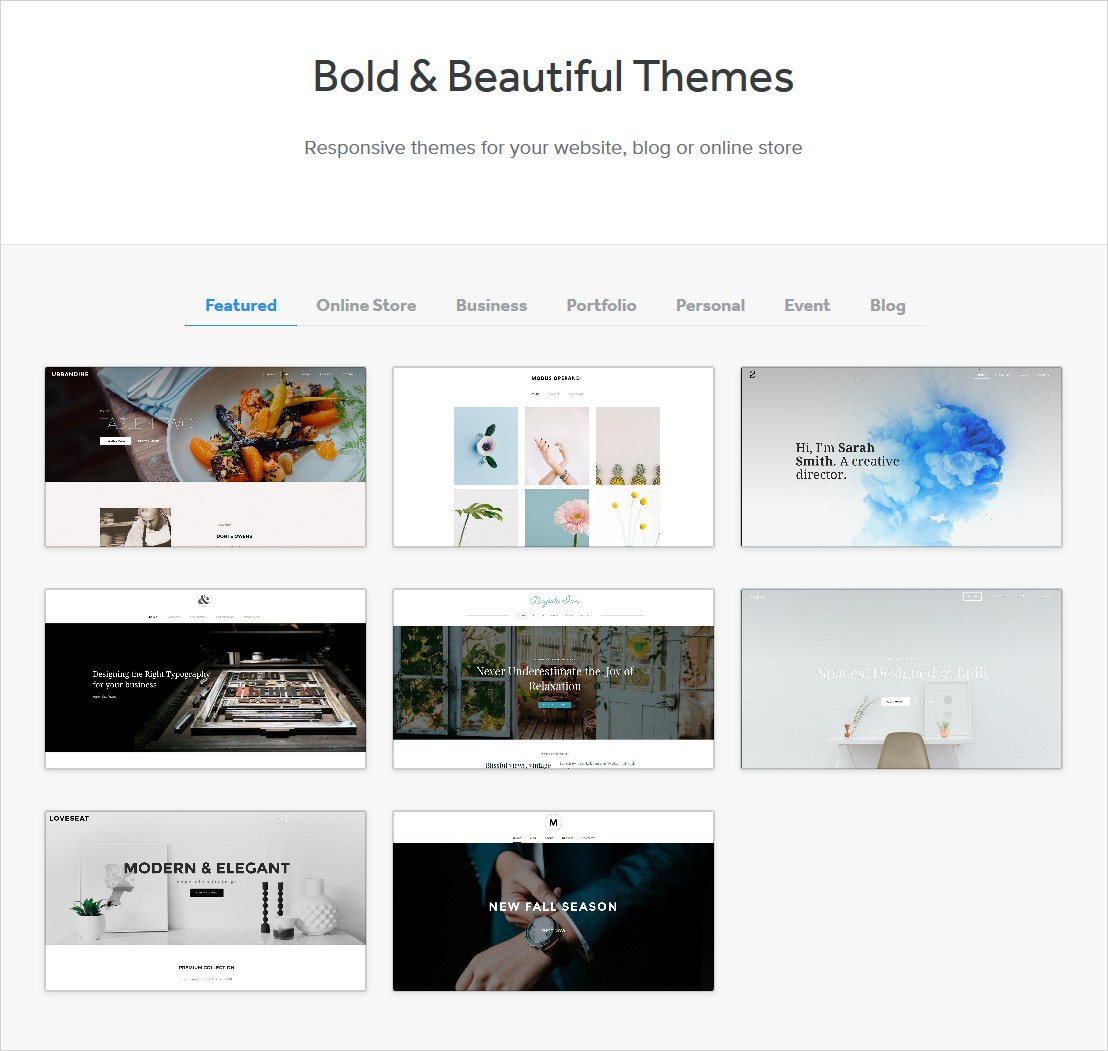 As I have mentioned earlier, it caters for a large variety of websites including personal, professional, portfolio, eCommerce, or more. Therefore, it offers templates organized neatly according to the suitable nature of a website. You can select the kind of website you want to build and it will present you with the suitable templates. In terms of quantity, Weebly offers around 70 templates which is less than other similar website builders. However, the quality of the Weebly template speaks for itself. But there is a major downfall to the older Weebly themes that they are not responsive. However, you can always turn to third-party theme providers like Mojo Marketplace and get an average theme for around $49. Furthermore, there are enough customization options but are somewhat restricted for a quick customization.
Weebly offers everything an adequate website builder can offer. It comes with a visual editor that allows you to drag and drop website elements to create a fully-functional website. There is no learning curve and it enables you to build and run your website with little to no effort. Moreover, the ready-to-use templates makes the process even more quick and easier. As mentioned before, it is maintaining two editors: Weebly and Square editor. Weebly editor is an outstanding, easy-to-use editor for customizing a non-eCommerce website. In contrast, Square editor is an easy-to-use, less-flexible editor meant for eCommerce website development.
However, if you still want to make some advanced customization, you can access the raw HTML and CSS code of your website and make edits accordingly.
Make your Weebly site Search engine optimized with the great marketing strategies and digital marketing tools it offers. Add meta descriptions, titles, heading tag, alt text, SEO friendly images, SEO friendly URLs, and more. The customizable elements allow you to gain visibility over the search engines and boost SEO to get more traffic to your web domains . However, the use of headlines are limited but adequate. Moreover, it comes with great monetization features like banner ads or Google AdSense to monetize your blog or website by displaying ads on your site.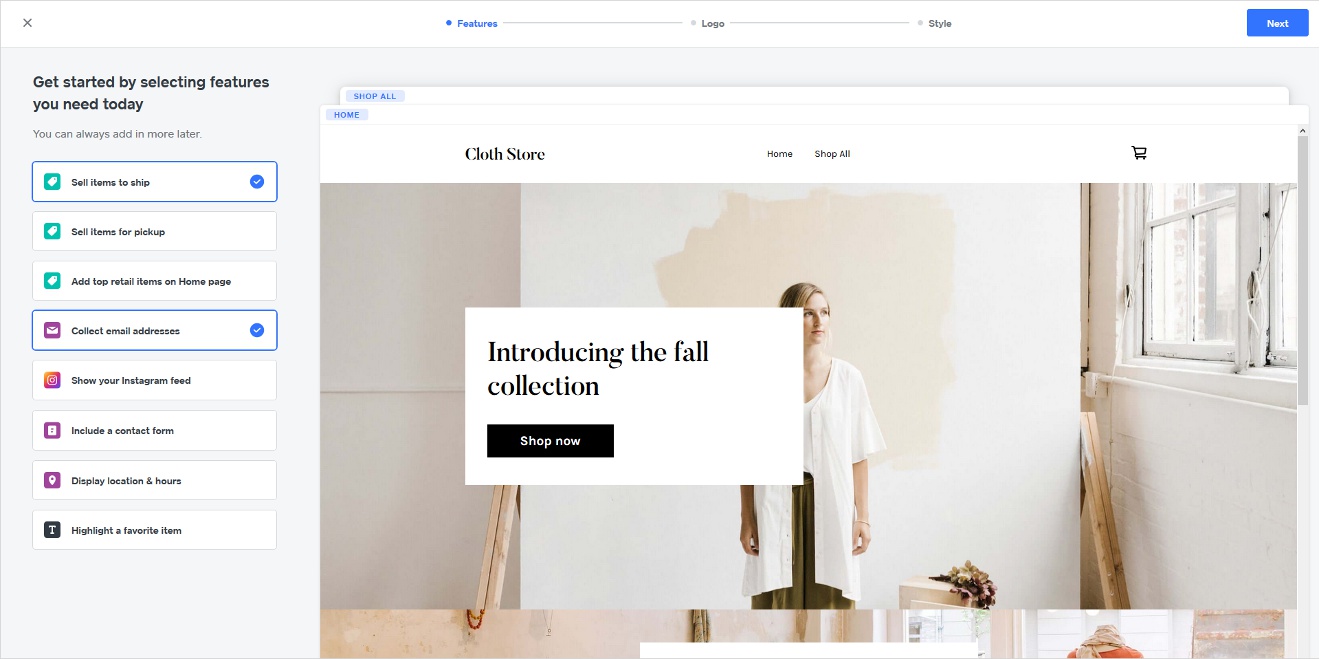 When it comes to building an eCommerce website, Weebly offers some of the most robust and advanced eCommerce-specific features. As I have mentioned before, its acquisition with Square payment enabled seamless payment integration. Apart from that, it offers a robust and easier shopping cart process with SSL encryption. Moreover, you can add product videos and customize the product element to make them more search engine optimized. Plus, the automatic shipping and tax calculator is its major highlight. Furthermore, it includes inventory management that keeps track of the stocks available and also informs about low stocks.
Having a blog is not optional but is an integral part of any website. It adds a dynamism element to your website and helps you make your website search engine optimized to get more visibility. Therefore, Weebly offers all the important basic features like blog post draft, blog post scheduling, comment section integration (using Disqus or Facebook). The only drawback is it doesn't offer the option to add multiple authors to your blog.
Weebly offers a strong set of built-in features including basic and advanced features. They offer all the basics including contact forms, blog features, etc, and advanced features like page-level custom code placement, URL redirects, and more. There are advanced necessities as well, which included functions like membership options, forums, integrated advertising options, file uploads, etc.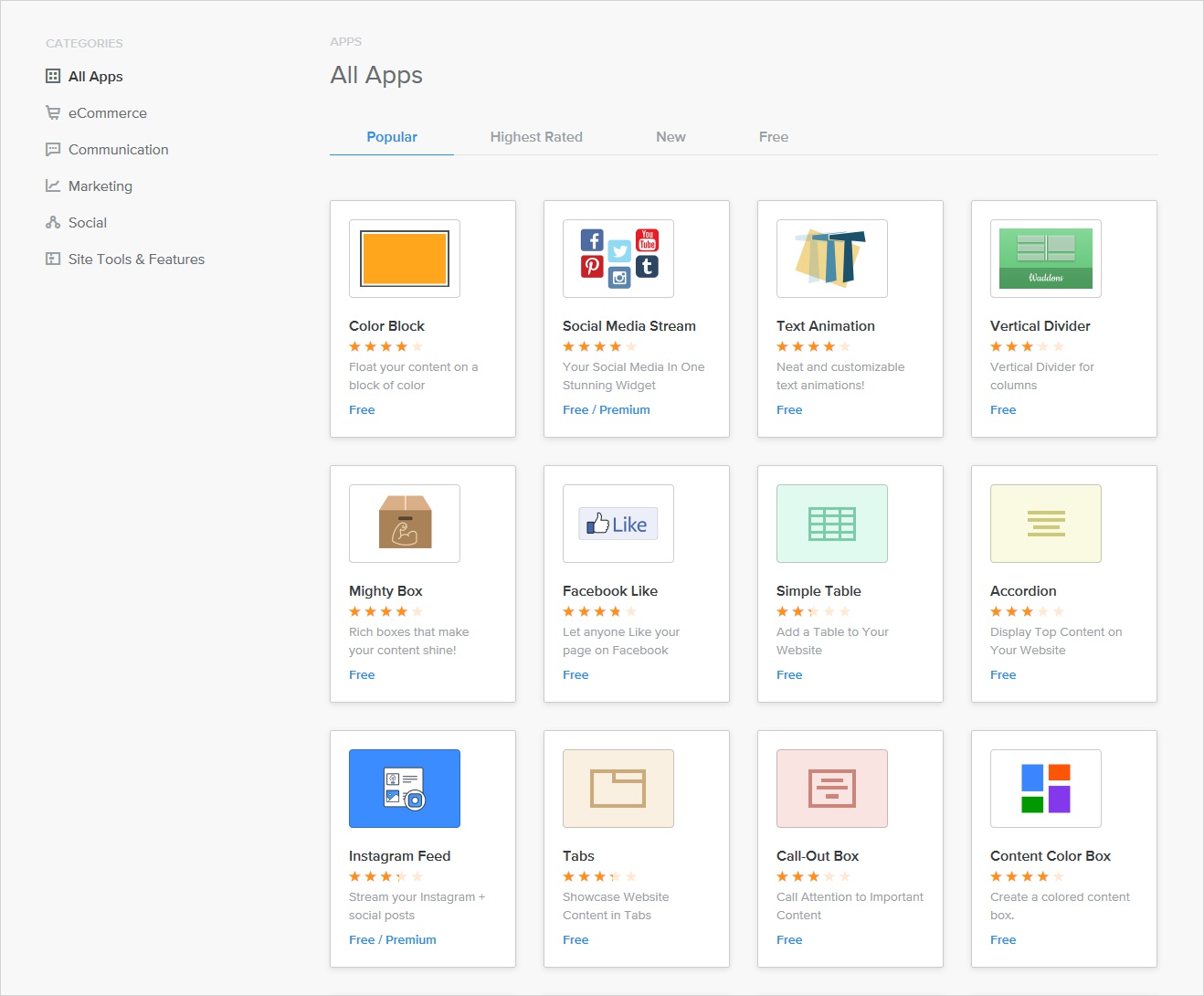 Apart from built-in features, if you wish to add some add-ons, Weebly offers extensions as well. It offers a third-party app market that includes free and paid services to add to your site. Only downside is that there are only a handful of third-party extensions. However, they are compatible with Weebly and are organized neatly in the App Market. Therefore, you don't have to scroll down aimlessly while looking for something you need.
Offers extensive customer support via phone calls, live chat, emails, FAQs, and an online forum. The immediacy the customer support depends upon the plan you have. For instance, free plan users can seek assistance through online forums or FAQs only whereas Pro and Business plan users can seek assistance from any of the stated methods. They offer competent responses to the email support and priority based responses to phone support.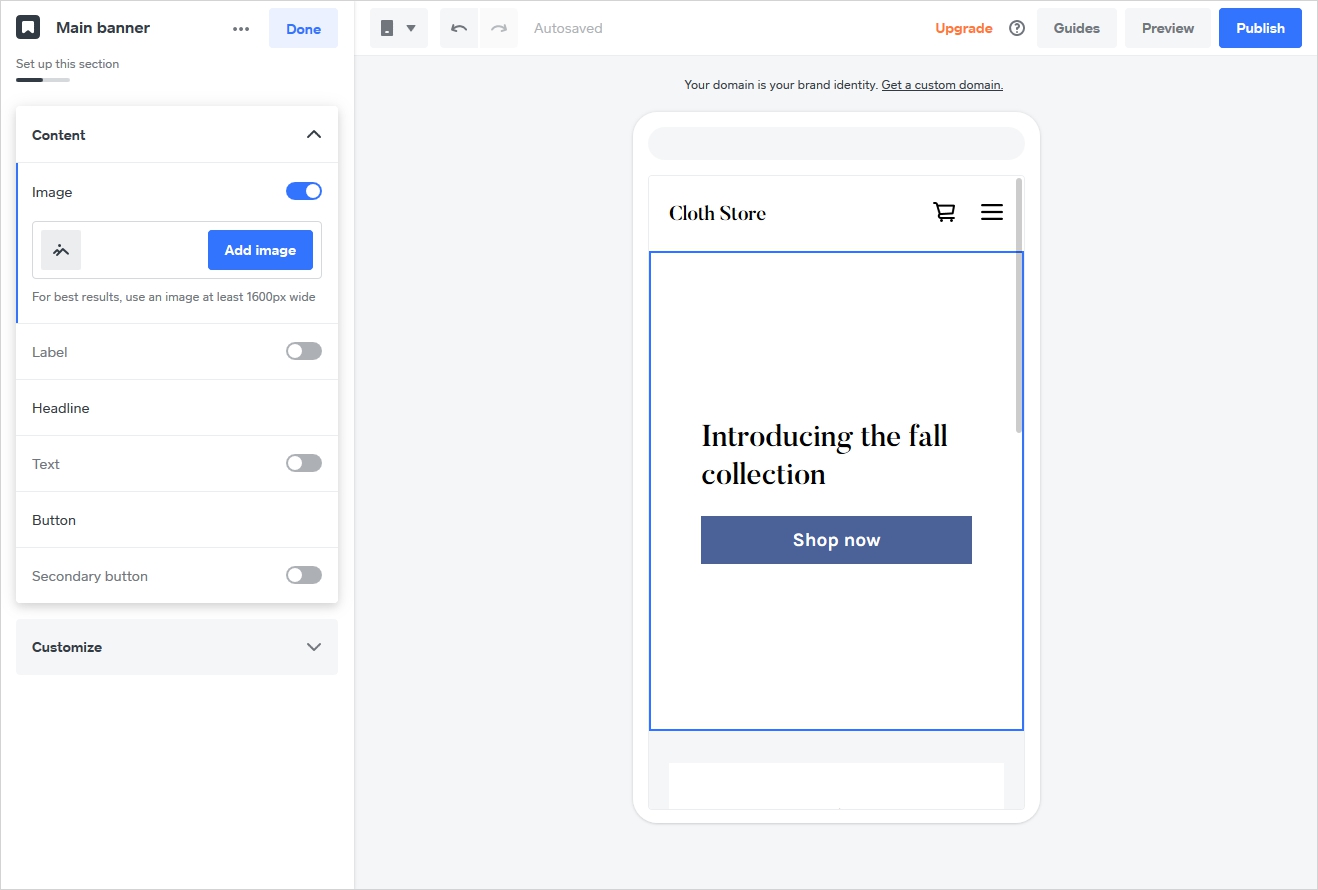 Weebly's most themes are mobile-friendly and 100% responsive. However, it has a major shortcoming to its other competitors that it doesn't show a preview of the theme's mobile view, which can throw you off. But it offers the ability to change the theme later without having to rebuild your website by easily exporting and importing the content.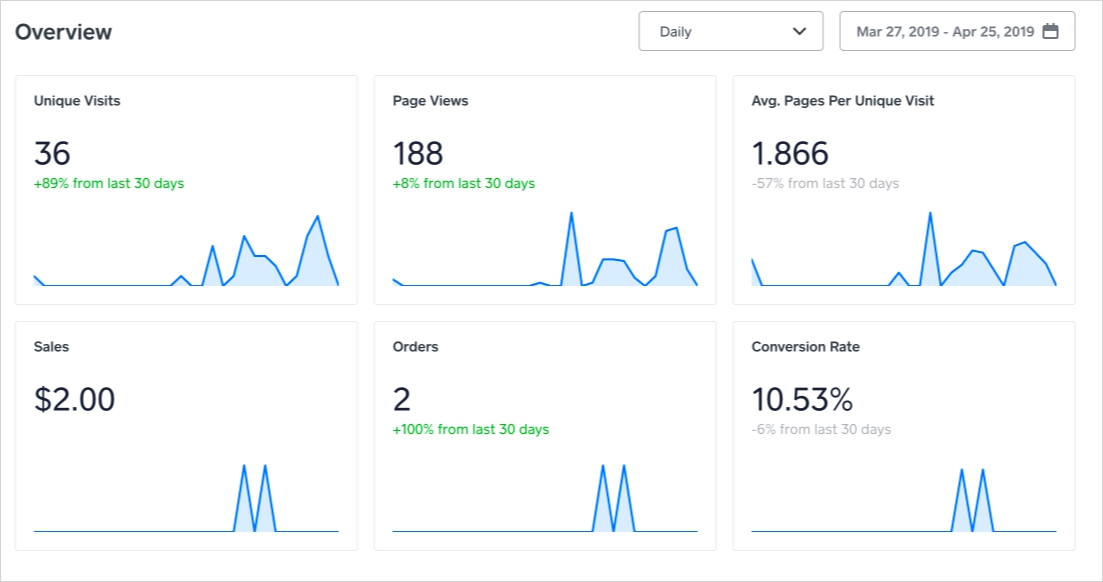 Engage more with your users by reviewing statistics. With the free plan, Weebly offers a simple visitor statistics tool that offers brief stats and is called Insights. It offers real-time statistics on your site's data and traffic patterns. However, you can leverage Google Analytics with the highest-tier plan.
Weebly Review: Pros and Cons
Weebly may not be the most perfect website building platform out there but it still comes with a great set of benefits. At the same time, there are some downfalls as well. Following are the pros and cons of Weebly-
Pros

Cons

Highly intuitive interface
A great range of eCommerce options
Stunning and visually appealing templates and designs to choose from.
Offers built-in stats tool, Insight
iPad site-editing app for making small changes in your site.
Offers full access to the source code of your website

Non-customizable mobile sites
No mobile preview available
Lacks reusable photo storage
Weebly Alternatives
Weebly remains the best available website builder for building a range of websites. Moreover, the choice of two different editors offers more flexibility when it comes to building websites. However, it still lacks the ability to build a mobile-responsive website with ease. This can be a deal-breaker and you might want to take a look at some alternatives.
TemplateToaster: It is an offline website builder that offers a downloadable software laced with tools to create your own website. You can download the software on your computer> pick a template> customize the template> publish your website. Moreover, it allows you to access the raw HTML and CSS files for advanced customization. Best part is it is a mobile first website builder that lets you build a 100% mobile responsive website with little to no effort.
Wix: If you don't want to download a software on your computer, then go for Wix website builder. It is an online builder that allows you to build your website online using a stable internet connection. Similarly, it has a drag-and-drop editor, An ADI (AI-based design interface) for automatic website building, and Corvid (for professional developers). Moreover, it comes with over 500 templates and most of them are even mobile-optimized. You can check Wix review and Squarespace review.
Weebly review: Summary
After the comprehensive research on the Weebly Review, I can confidently say it is one of the top-tier website builders that offers great functions and templates. Moreover, it has a great team of experts constantly working towards the betterment of the platform. It may have a lower number of templates but they are all visually-appealing, great-looking templates and some of them are even mobile-friendly. In case a user ever feels stuck, they can immediately seek help from its online forum, email, FAQs, or phone support. Furthermore, Weebly offers access to HTML and CSS files of your site to fine-tune your website, making it suitable for professional developers as well. Also, the outstanding eCommerce plans allows users to build exceptional online stores with advanced features.
I hope this article helped you understand the core features offered by Weebly. In case you have any doubt, please reach out to me by commenting below. I'd love to help you out!