Wix Reviews
User Friendliness

Affordability

SEO

Features

Online Store

Customer Support

Templates

Website Speed

Editor Features
Wix Summary
Wix is a powerful and immensely popular Cloud-based platform to build a website. And the best part about this website builder is that it is available for free. It comes with pre-made templates and Artificial Design Intelligence to help you design a website with human logic. Furthermore, you can add videos, texts, images, and more to make your website look impressive and eye-catchy. All in all, Wix provides complete package tidbits like website builder, web hosting, top-notch security, SEO, for your website.
Want to build a website with little to no efforts, go for Wix. Its creative editor offers maximum scope for creativity and greater ease of use. Wix is known for offering slick and intuitive features but how true is it? In this post, I am going to review the latest version of Wix to determine how great of a website builder it is. I will try to cover every aspect so we can have a clearer picture.Wix is a fast website builder that requires you to just sign up, pick your template, and start working on your website. This review of Wix will cover everything including pros, cons features, pricing, and more, in order to determine when to use and when to avoid Wix. By the end of this Wix review, you'd have a keen idea what to do-
What is Wix?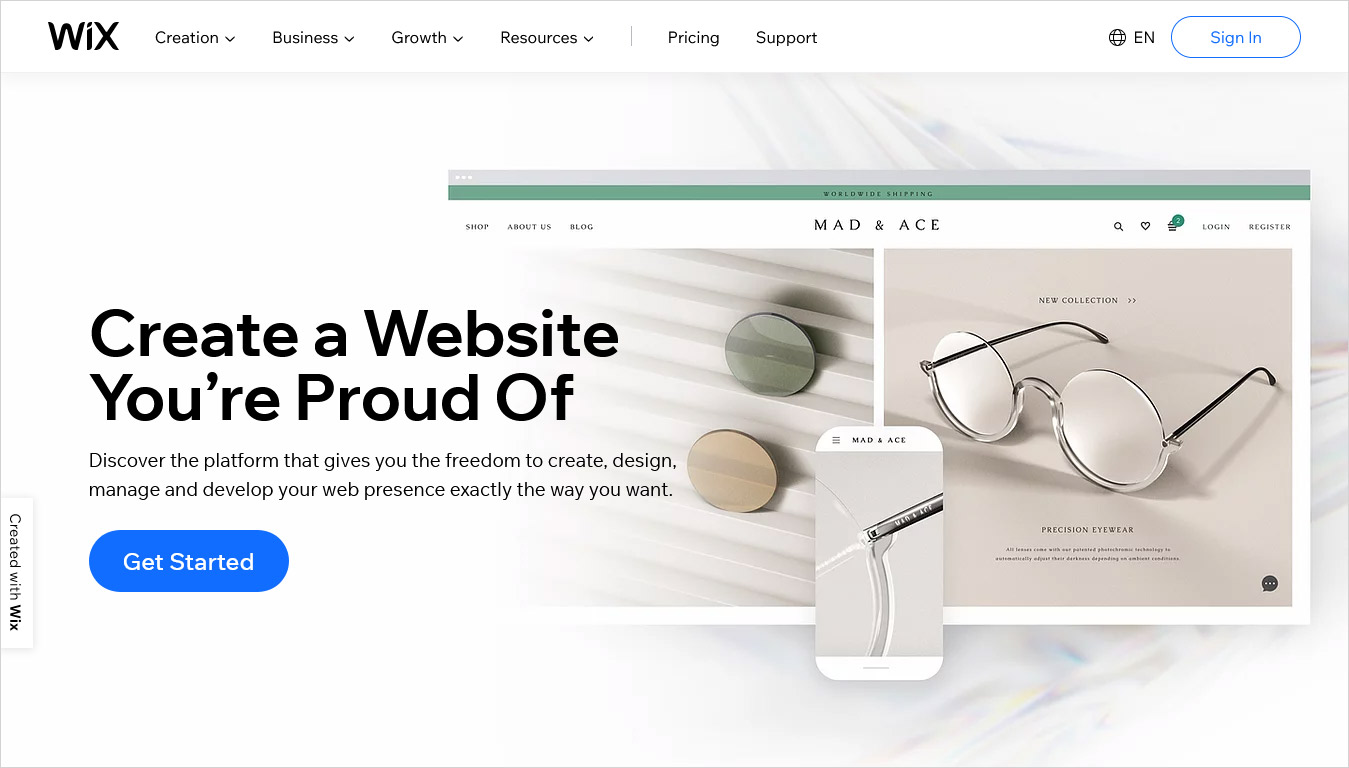 Wix is one of the well-established and popular online website builder that is rapidly gaining users. This all-in-one website builder offers effective tools and features to build various websites like blogging sites, eCommerce site, music website, church website, wedding website, and whatever is in your mind. In simpler words, it turns your creative ideas into reality. What's different about Wix is that it comes with a drag-and-drop editor that allows you to create a stunning website by dragging and dropping website elements, without any coding. Moreover, it comes with hundreds of beautiful templates, categorized neatly. The website maker is builder friendly, scalable and all-rounder. We will discuss the features in depth in the following sections.
When to use Wix?
Wix is suitable for anyone looking for visually impressive templates for small business, portfolios or eCommerce websites. It is an all-rounder website creator that allows you to build mobile friendly websites with spiced-up graphics and features. It is suitable for any beginner who wants to get their website live as soon as possible.
What are some pros and cons of Wix?
All-rounder website builder offers a lot of benefits and has some shortcomings to it too. Following are some pros and cons of Wix website builder-
Pros
Fully independent drag-and-drop editor
No coding skills or prior experience is required to create website using Wix ADI
Extensive knowledge base to help you out.
An extensive App Market is there that allows you to integrate add-ons
Comes with a free unlimited version.
Add a wide range of elements to your website including text, images, animations, videos, and more.
Offers automatic site backup
Cons
Wix websites don't score the best speeds on website speed test tools.
Offers data import but no support for data export is there.
You can't switch templates once your site is live.
How easy is Wix to use?
As i have mentioned before, Wix requires no coding skills or website development experience. It provides two choices- Wix Editor or Wix ADI. Wix editor offers the infamous drag-and-drop functionality that allows users to drag and drop elements around and reposition anything, anywhere on your site. It is infamous for the extensive freedom it offers users to create a layout the way users want. Then, there is Wix ADI (AI design interface), which asks users some questions and creates a website for them depending upon their response to the questions asked. Overall, it is impressive how quickly it can create a website for users with minimal efforts. Furthermore, they recently launched Corvid that also allows you to access and edit raw HTML and CSS code blocks. It is useful for tech-savvy experienced web developers and designers only. Until now, there was no way to edit the coding but now they have included this feature as well.
Wix Review: Features
Unstructured Drag-and-drop editor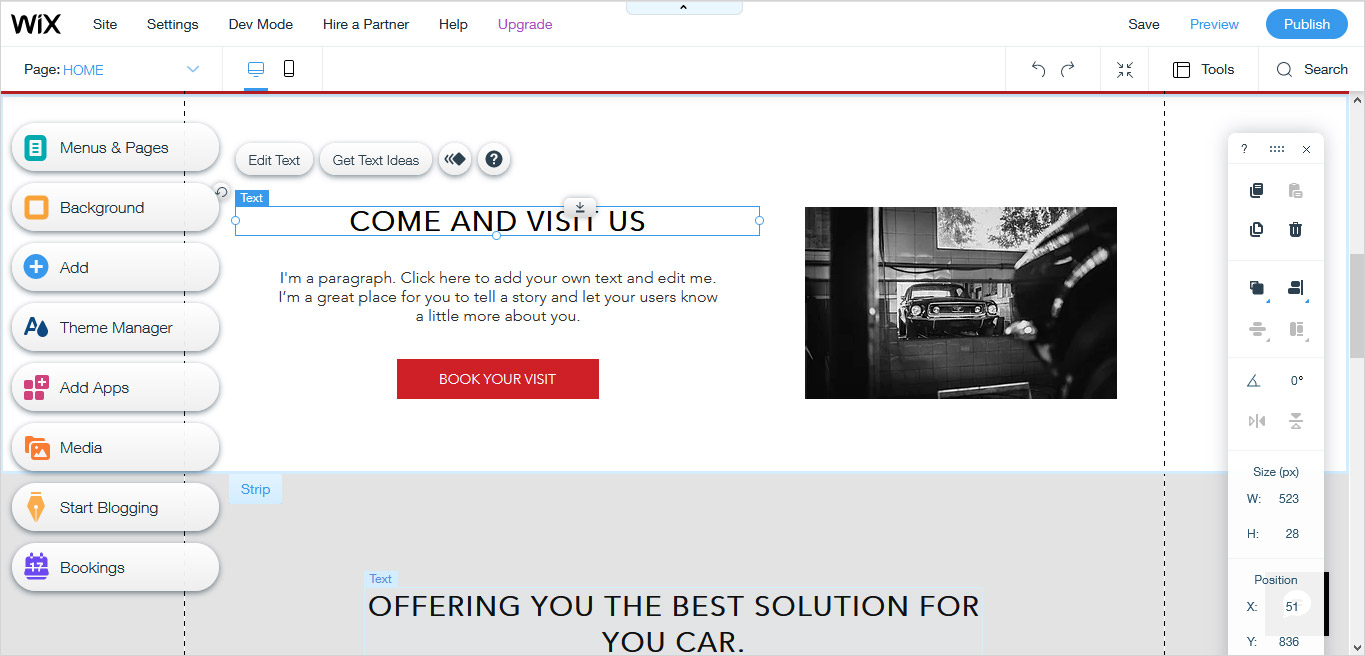 If I have to describe Wix's unstructured editor, I would say: freedom. That's right, the drag-and-drop editor allows users to drag and drop elements wherever on the web page they like. You have the liberty to create a layout like you have imagined since there is no restriction. Unlike some website builders that offer section-based drag and drop editor, Wix allows pixel by pixel drag and drop. The downside is that it might take some time to get used to and create the perfectly aligned layout, but the freedom is worth it.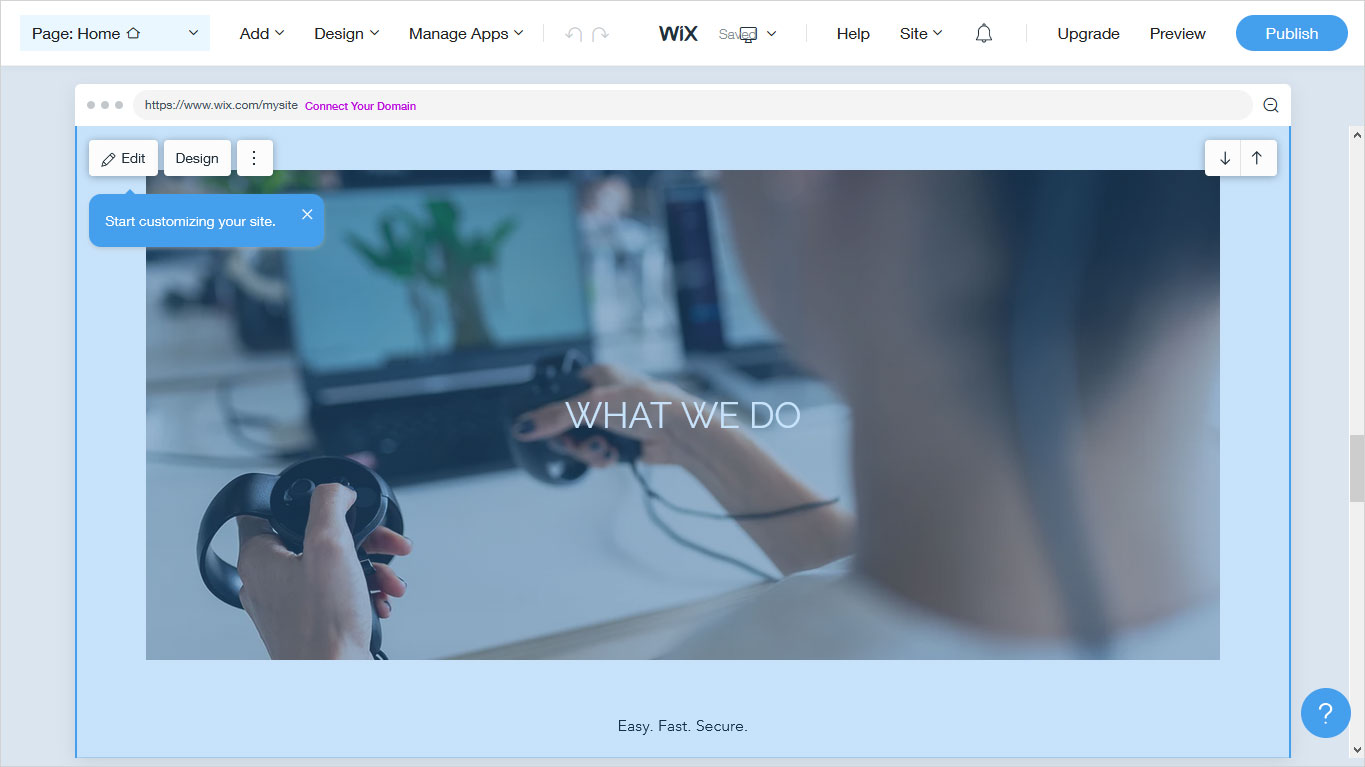 Wix comes with 'ADI' (Artificial Design Intelligence) tool that enables you to create a website with no efforts at all. It will ask you a set of questions and create a website for you depending upon your requirements. It may take some time to complete the automatic website building but will tell everything happening in the process like adding forms, optimizing the site from mobile view and so on. Moreover, it offers the option to add social accounts such as Facebook, Instagram, and Twitter. Furthermore, it allows you to customize things like sales items and more. ADI is worth a shot if you are not interested in designing your own site.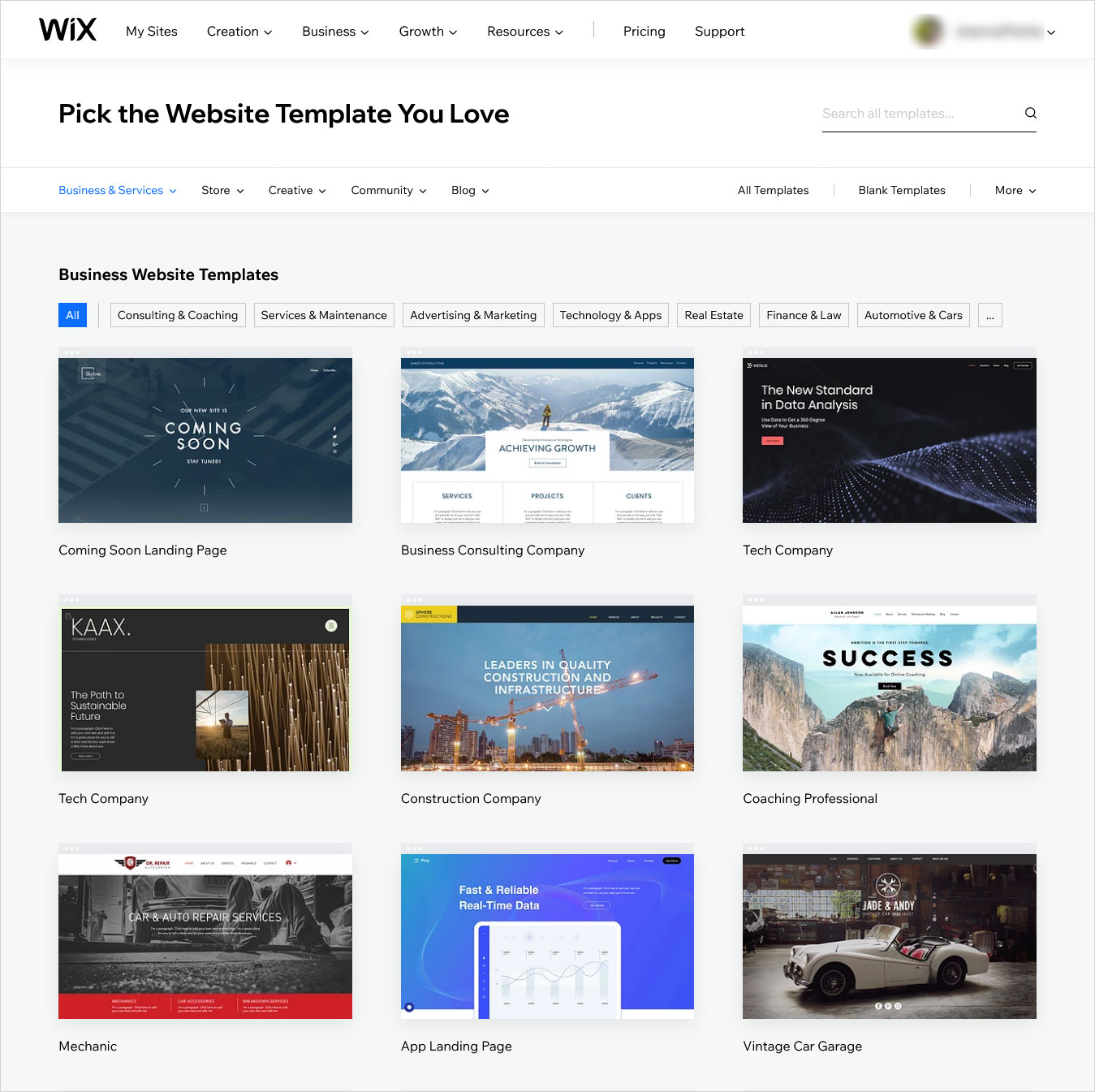 When you sign up for Wix, it will ask you the nature of your business. For example, if you want a website for your restaurant, you will choose 'restaurant'. After that, it will offer all the templates that can be used for restaurant websites. Currently, it has over 510 templates neatly categorized to enable users to locate the relevant templates hassle-free. However, the quality can be inconsistent. But they are working towards it. Major downside of Wix templates is that you have to carefully choose the template because you can't switch it later. Moreover, it offers mobile-friendly websites but you have to edit your web pages twice to make your website run smoothly on mobile devices.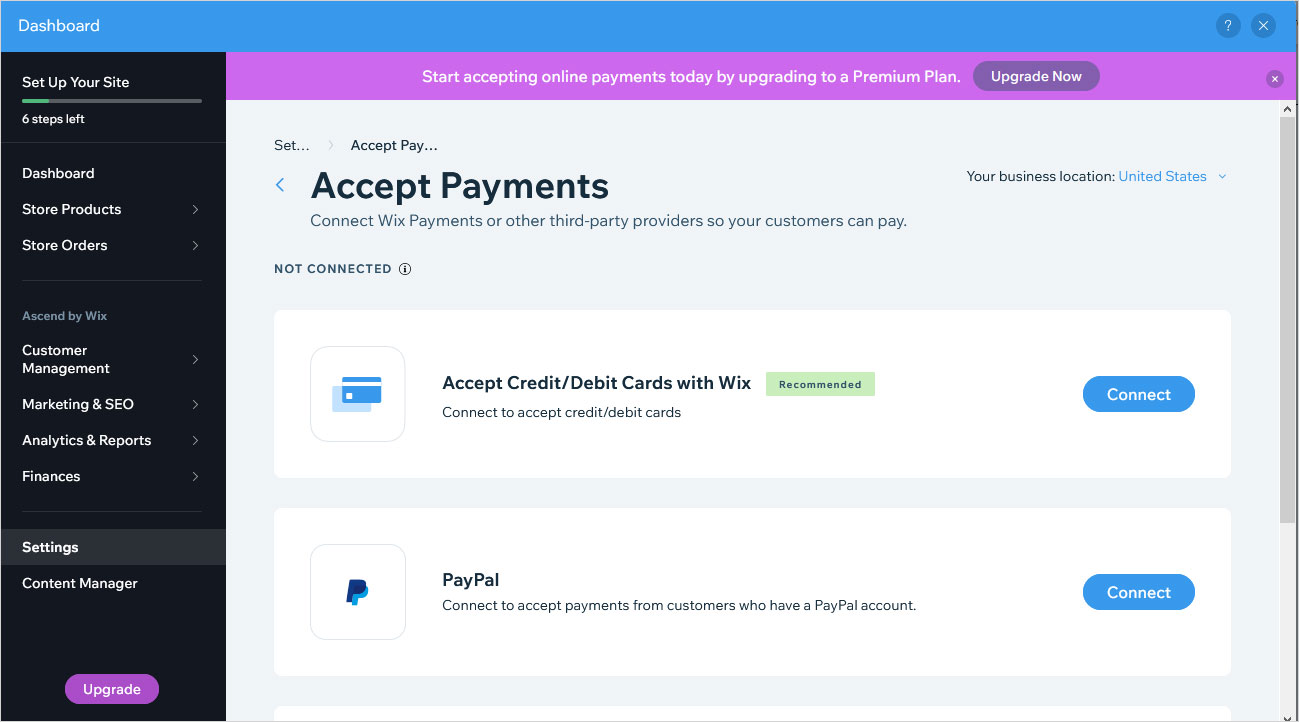 Here is an ecommerce news, Wix offers the 'Business and eCommerce' package especially tailored for building and running eCommerce sites. It comes with a lot of eCommerce-specific features like shipping, payment, checkout, product variants, and more, which makes it a suitable eCommerce website builder. It allows you to add as many products to your online store as you want. Moreover, you can incorporate shipping and tracking using UPS, FedEx, USPS, and more. Furthermore, it offers an abandoned cart saver feature that enables you to send a tailored email to a customer that added products to cart but never completed the checkout process. Overall, the eCommerce website development offered by Wix are pretty impressive.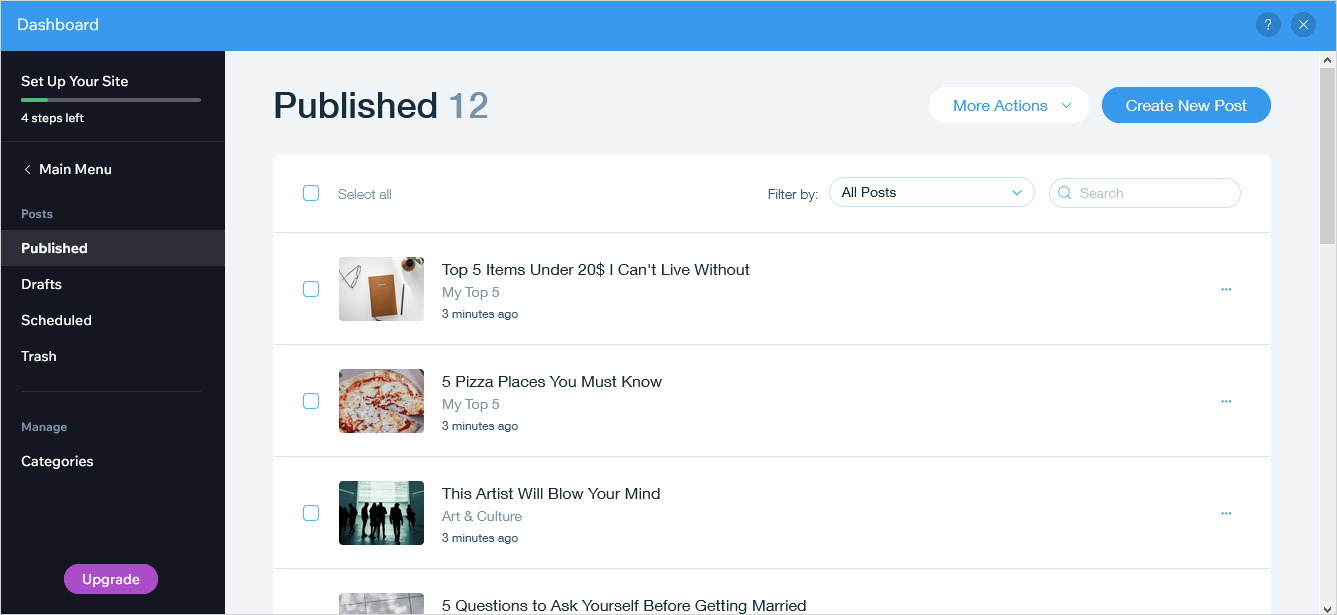 If you are creating a blog site or adding a blog to your site, then Wix can help you out. It comes with a lot of blogging-specific features. It allows you to add subscription or comment options to your blogs. Moreover, you can tag posts with a tag cloud display. Furthermore, it enables support for importing RSS feed on your blog site. There are other features like Disqus comments, Facebook comments, etc, available as well. There are some advanced blogging features you can leverage as well. For instance, you can save a blog post and schedule it for later. Plus, you can add audio, video, text, images, photos, galleries, and more. Overall, it is a rich blogging platform with everything you need.
Wix offers a built-in SSL certificate in every website and adds a padlock icon to your site. It lets your visitors know that they are surfing a safe website and it is a plus point from an SEO perspective as well. Moreover, it comes with the autosave option, which means you will never lose your changes just because you forgot to save it. Furthermore, Wix comes with an interesting backup feature 'site history' that allows you to restore any previous version of your website with just one click.
As far as SEO is concerned, Wix offers everything you need. It enables users to add landing pages, PPC pages, meta descriptions, alt text, keyword insertion, rich snippets, and more. Moreover, the ranking of a website is mostly affected by on page SEO. Therefore, you need to be more focused on the type of content you use. Overall, as long as you are not competing for insanely competitive keywords, you'd be fine with Wix. Moreover, it offers great integration with email marketing tools to drive more traffic to your website. The only downfall I can point out is that Wix websites don't score very well on the Google speed test.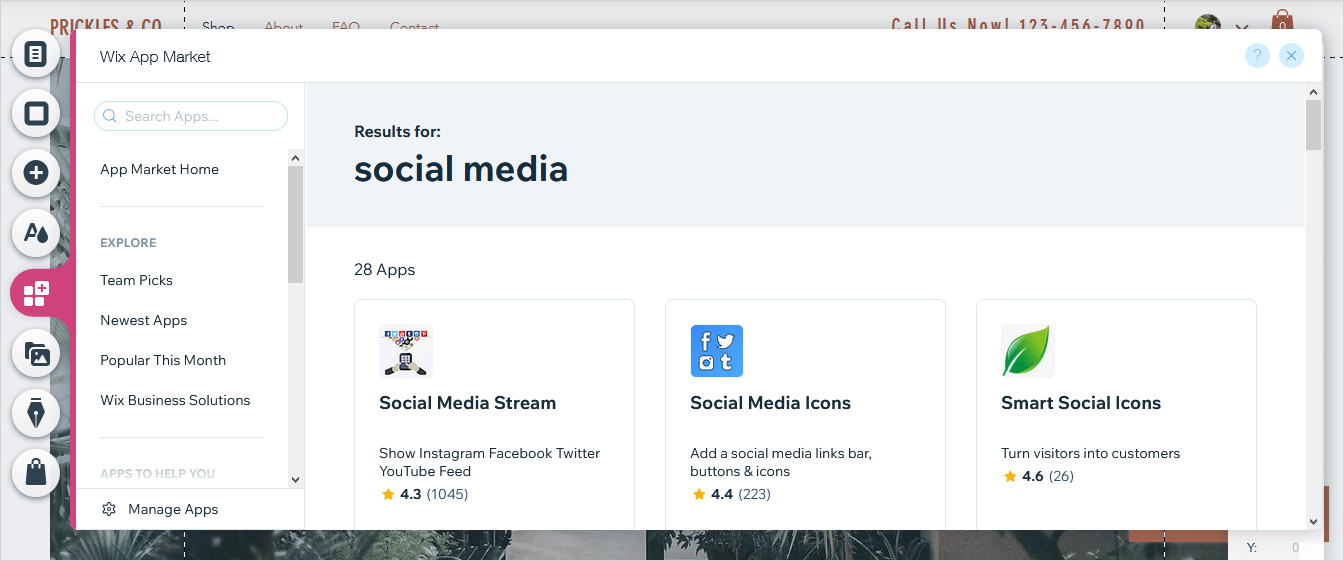 Connecting your website to your social media platforms is a great way to increase user engagement on your site. Good for you that Wix comes with some great social media integration that allows you to add social buttons, likes, feeds, shares, follower counts, etc. However, Wix still doesn't offer multichannel selling. It means you can't sell your products directly on social media or other marketplaces, so there's a shortcoming.
Although Wix offers most features in-built, still there are some add-ons users can get from its App Market. It currently has over hundreds of third-party site features that allows you to add some robust features to your website for better functionality. Of course, there are some tools you might not find in the core app, but it won't be a deal breaker. Since they offer third-party apps to fill the void, you can have hassle-free, one-click installation of tools. Some of the useful integrations offered by Wix app market are shipping integrations, digital marketing tools, live chat widgets, and more. Some of them are completely free while others come with premium versions for a small monthly fee.
Add-ons and value for money
You are getting economically-priced plans but is it worth it? I mean they are not too expensive but do they add value to your money? The free version is nothing but a basic editor that allows you to create a flat website. Basically, you will have to get the paid plan if you want to create a decently appealing website. It's cheapest plan is available for $13/month (after discounts). Also, you may have to spend more on the third-party apps/extensions. As far as the value for money is concerned, I won't say it is the best option out there.
Wix Review: Customer support and Knowledge Base
When it comes to support and knowledge base, Wix is definitely the best website builder. Firstly, when you use the Wix editor, you will notice small question marks. You can click on them to get the useful information. They offer a brief explanation or tips about tools that are labelled on. Moreover, there are literally hundreds of blog posts, articles, FAQs, and video tutorials covering a wide selection of topics you could ever need assistance with. Just visit their Help Centre to gain access to their huge knowledge base. Furthermore, they offer manned customer support via email of phone from Monday to Thursday, 5am-5pm EST. Only thing that's not there is live chat support. However, you won't miss it much since they have a large online community of expert users who are active and offer prompt help.
Wix Review: Pricing
Wix offers an unlimited free version for individuals that require only the essential features to build a basic site. However, if you are looking to build an online store or have other professional features, then you will have to get a suitable paid plan that can fulfill your requirements. Wix offers 4 main plans as following-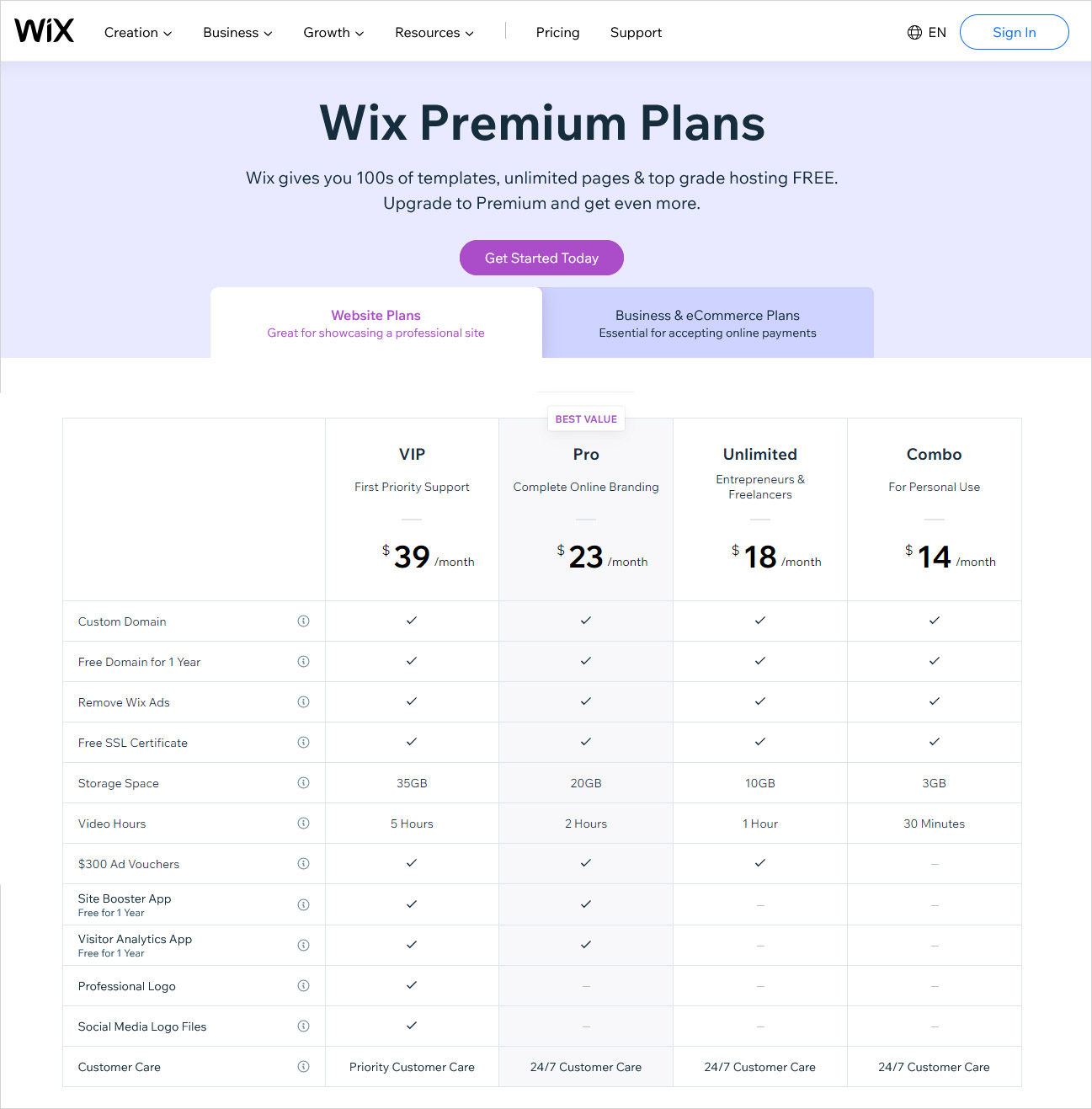 Combo Plan: Available for just $13 a month suitable for personal use.
Unlimited plan: It is available for $17 a month suitable for Entrepreneurs and Freelancers.
Pro: Available for $22 a month and offers a complete branding solution.
VIP: Available for $39 a month that includes everything along with free VIP support.
If you sign up for any of the Wix's annual premium plans, you will get a domain name free for the first year. After the first free year, you'd have to get your domain name from other domain registrars.
Wix Review: Final Words
If you ought to create a stunning and powerful website, then Wix is your resort. You don't need any prior website development experience or coding skills. Moreover, the unstructured editor allows you to create a layout you want. If you pick a template, you can create a website and make it live in an afternoon. Overall, it offers everything you could ever need for your average website including SEO features, security, blogging-specific features, eCommerce features, etc. Hopefully, this Wix review will help you determine whether it is the right website building solution for you or not. Albeit, if you're planning to expand your website, this might not be the ideal solution. However, you always have the option to migrate your website from Wix to WordPress. Basically it doesn't cost anything to get started with Wix. Moreover, paid plans offer a 14-day trial period and no-questions asked refund policy. So if you want to get started, I'd recommend you to go ahead. Please comment below if this Wix review was helpful to you.
Wix Review – Faqs
Q1. Why should I use Wix? If you need a cutting-edge, advanced, yet convenient website builder, then Wix is an obvious choice. With an extensive library of templates and apps catering for different business niches and features, it allows you to build a website that caters to your unique requirements.
Q2. How many templates does Wix offer? Wix offers a choice of over 800 templates and 500 of them are mobile-optimized. They are all categorized according to the business niches. Moreover, you can preview the templates before deciding on one. However, make a decision after considering every aspect as you won't be able to switch the templates later.
Q3. Is Wix free? Yes. Wix offers an unlimited free version with basic features. You can make an entry-level website with basic features. However, you will have a Wix ad in the footer of your website.
Q4. Are all the templates offered by Wix mobile-friendly? Unfortunately, it is not good at it. However, it offers a separate mobile tab while website building process where you can control how your website will look on the mobile devices. Making adjustments separately for mobile view can be inconvenient and time-consuming but it allows you to make any template of your choice mobile-optimized.
Q5. What is Wix ADI? Wix ADI is an advanced system powered by Artificial Intelligence and stands for Artificial Design Interface. This allows users to build an entire website without having to put-in a lot of efforts. It will ask you a bunch of questions to collect requirements and build a website based on your answers.
Q5. Can I get access to the source files of my website on Wix? Yes! Wix comes with a Corvid system that was introduced not long ago. It allows you to gain access to the raw HTML or CSS files and throw-in custom code to make advanced edits.
Q6. Do Wix support multilingual sites? As a matter of fact, YES. Wix offers a new tool- Wix Multilingual. This tool allows you to translate your website in any language you want including links, text image backgrounds, Wix stores, SEO settings and more.
Q7. Is hiring an expert better than using Wix? If you require a small or medium size website to accommodate average traffic, then Wix is the perfect solution. However, if you want an enterprise-level website with complex features and more than 20-pages, then it is better to hire experts to get your website developed. However, hiring a developer can be pretty expensive and usually comes with hidden-charges whereas Wix comes with a flat-pricing structure allowing you to build your website on a calculative budget. It is wise to consider all your requirements including business and budgetary before making a decision.
Q8. Do Wix offer integration with other apps? Yes, Wix offers an extensive App market with over 250 free and paid apps in it. These apps are built by Wix or other third-parties and they are highly compatible with Wix sites. In fact, they cater to lots of useful functionalities like social media integrations, editorial calendars, online live chat, pop-ups, and more.